Magic Custard Cake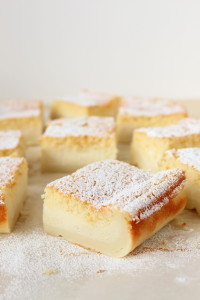 4 large eggs, separated at room temperature
¾ cup granulated sugar
½ cup unsalted butter, at room temperature
¾ cup all-purpose flour
2 cups milk, lukewarm
1 teaspoon vanilla extract
icing sugar for dusting
Preheat oven to 325 degrees Fahrenheit. Lightly grease an 8 x 8 inch square cake pan and line with parchment paper.
Warm milk in microwave and set aside.
Using an electric mixer, whisk egg whites on high speed until soft peaks are formed. Transfer to another bowl. Set aside.
Add egg yolks and sugar to mixing bowl and beat until smooth, creamy and pale yellow in colour.
Add butter and continue mixing for approximately 2-3 minutes on high speed.
Mix in flour until incorporated.
Slowly add the milk and vanilla, beating at low speed.
Gently fold in egg whites, ⅓ at a time. The batter will be quite thin. It will be difficult to fully incorporate the egg whites.
Pour batter into prepared cake pan.
Bake 50-60 minutes or until top is lightly golden and firm to the touch.
Let cool completely.
Dust with icing sugar.