Pillowy Light Cloud Bread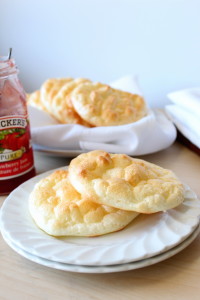 3 large eggs, separated
3 tablespoons cream cheese, room temperature
¼ teaspoon cream of tartar
1 teaspoon sweetener
Preheat oven to 300 degrees Fahrenheit. Line a baking sheet with parchment paper.
Mix together egg yolks, cream cheese and sweetener in a small bowl. Set aside.
Using an electric mixer, whisk egg whites and cream of tartar on high speed until stiff peaks are formed, about 5-6 minutes.
Gently fold in cream cheese mixture. Try not to deflate the egg whites.
Scoop batter onto prepared baking sheet, into even rounds, about the size of a hamburger bun.
Bake for 30 minutes, or until golden brown.
Transfer bread to wire rack and let cool.
Store in an airtight container.
Recipe by
Cinnamon and Toast
at https://cinnamonandtoast.com/pillowy-light-cloud-bread/