Baked Honey Crullers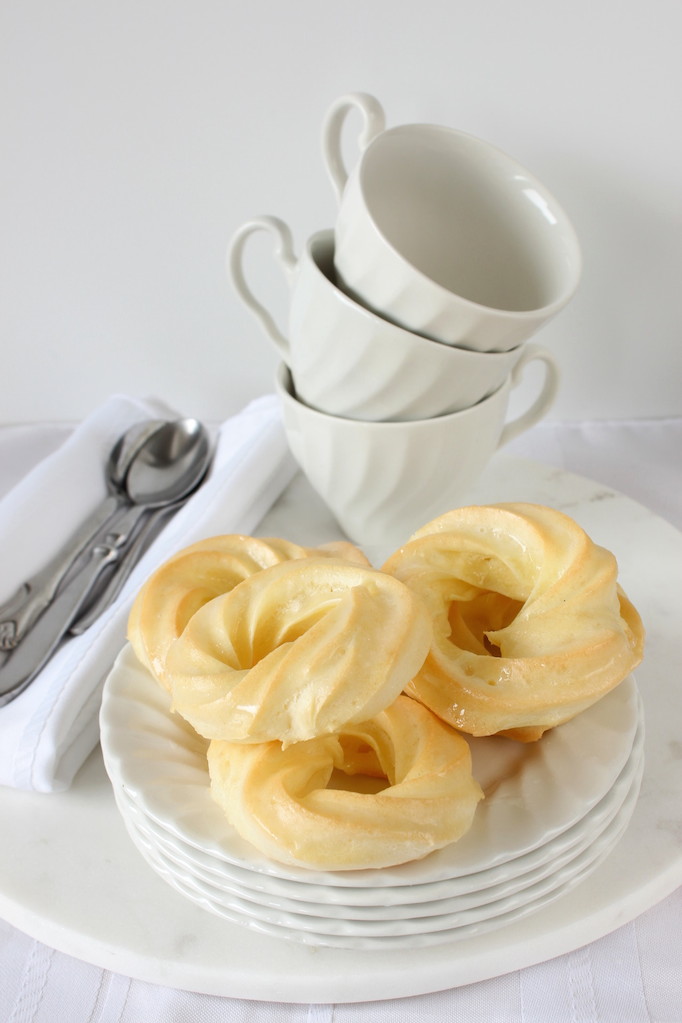 FOR CRULLERS:
1 cup water
6 tablespoons unsalted butter
2 teaspoons granulated sugar
¼ teaspoon salt
1 cup all-purpose flour
3 large eggs
1-2 egg whites
FOR HONEY GLAZE:
¾ cup icing sugar
2 teaspoons honey
2-3 tablespoons milk
Preheat oven to 450 degrees Fahrenheit. Line a baking sheet with parchment paper.
To make the choux pastry: Combine water, butter, sugar and salt in a medium saucepan over medium heat.
Bring mixture to a boil.
Add flour all at once and mix vigorously with a wooden spoon until a smooth ball is formed. Cook and consistently stir for 3-4 minutes. When a thin film sticks to the bottom of your pan, it's ready.
Transfer the pastry to the bowl of your stand mixer, using the paddle attachment, mix for one minute. This is to let it cool slightly.
Add eggs, one at a time, mix on medium speed until fully incorporated and smooth. Add the remaining eggs and continue to mix until smooth after each addition.
Add the egg whites and continue to mix until smooth and glossy. Mixture will be thick.
Transfer to a piping bag fitted with a ½ inch star piping tip.
Pipe the mixture 2 inches apart on prepared baking sheet.
Bake for 5 minutes at 450 degrees Fahrenheit then lower the oven temperature to 350 degrees Fahrenheit. Bake for another 15 minutes. Turn off the oven, open the door slightly, and let sit for another 5-10 minutes.
For honey glaze: combine icing sugar, honey and milk. Mix until well combined.
Dip doughnuts in honey glaze. Transfer to wire rack and let cool.