Coconut Walnut Granola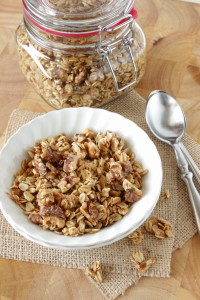 2 cups rolled oats
½ cup walnuts, chopped
¼ cup flaked coconut, unsweetened
2 tablespoons flaxseed, ground
⅓ cup maple syrup
3 tablespoons coconut oil
½ teaspoon coconut extract
¼ teaspoon sea salt, fine
Preheat oven to 300 degrees Fahrenheit. Line a baking sheet with parchment paper.
Combine the rolled oats, walnuts, coconut, and flaxseed in a large bowl.
Whisk together maple syrup, coconut oil, coconut extract and salt in a separate bowl.
Pour the wet ingredients into the dry. Mix thoroughly to combine.
Spread granola onto prepared baking sheet.
Bake for 10 minutes. Stir the granola.
Bake for a further 10 minutes or until lightly browned.
Let cool completely. Store in an airtight container.
Serving size:
½ cup
Calories:
369.7
Fat:
17.1
Saturated fat:
10.5
Trans fat:
0
Carbohydrates:
46.2
Sugar:
13.1
Sodium:
13.9
Fiber:
6.1
Protein:
10.3
Cholesterol:
0