Puff Pastry Apple Turnovers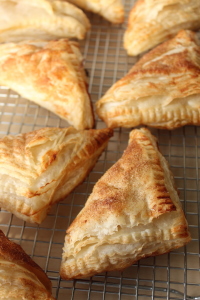 3 apples, peeled, cored and cut into ½ inch cubes
5-6 tablespoons water
3 tablespoons granulated sugar, or to taste
½ teaspoon fresh lemon juice
¼ teaspoon cinnamon
Pinch of nutmeg
1 egg yolk, beaten
1 package store bought puff pastry, thawed
Cinnamon sugar, optional
Preheat oven to 400 degrees Fahrenheit. Line a baking sheet with parchment paper.
Combine apples, water, sugar, lemon juice, cinnamon and nutmeg in a large saucepan.
Cook over medium heat, stirring occasionally, until apples soften but still hold their shape, approximately 8-10 minutes.
If apples become dry, add more water, 1 tablespoon at a time.
Roll out puff pastry into two 9 x 9 squares. Cut each square into 4 squares of equal size.
Place puff pastry onto prepared baking sheet.
Place approximately 2 tablespoons of apple filling in the centre of each square.
Lightly brush egg yolk around the edges of the puff pastry.
Fold over and press the edges together, using a fork, to seal in the apple filling.
Brush top with egg wash.
Sprinkle with cinnamon sugar, if desired.
Bake for 20-23 minutes or until lightly browned and puffed.
Transfer to wire rack to cool completely.
Cinnamon sugar: mix 1 tablespoon sugar with 1 teaspoon cinnamon in a small bowl.
Recipe by
Cinnamon and Toast
at https://cinnamonandtoast.com/puff-pastry-apple-turnovers/