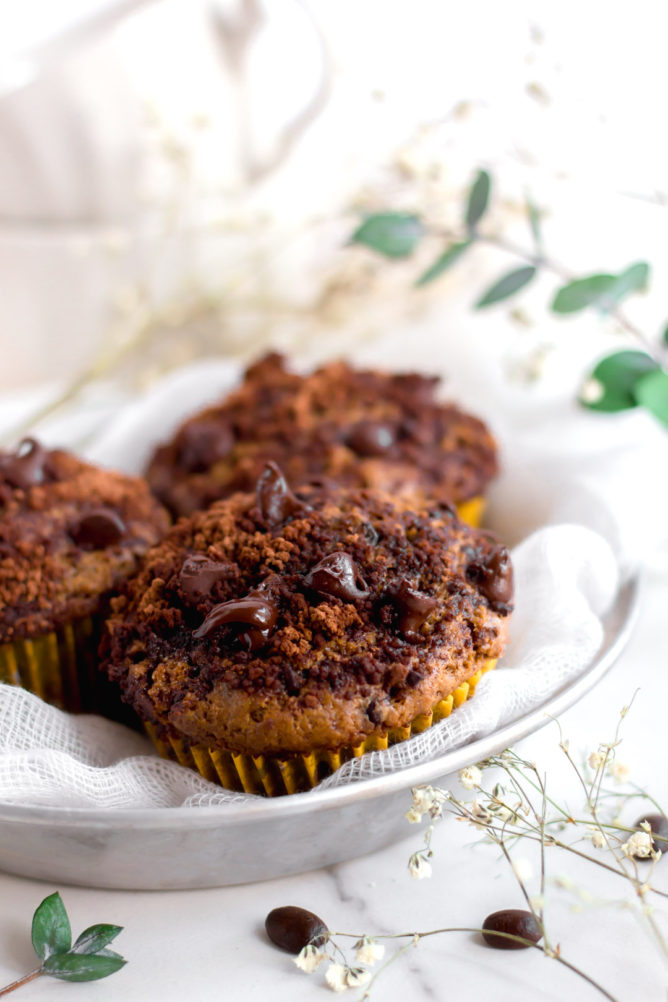 Imagine the smell of freshly brewed espresso in the morning.  Now imagine that freshly brewed espresso in a muffin.  Now imagine that freshly brewed espresso in a muffin with CHOCOLATE.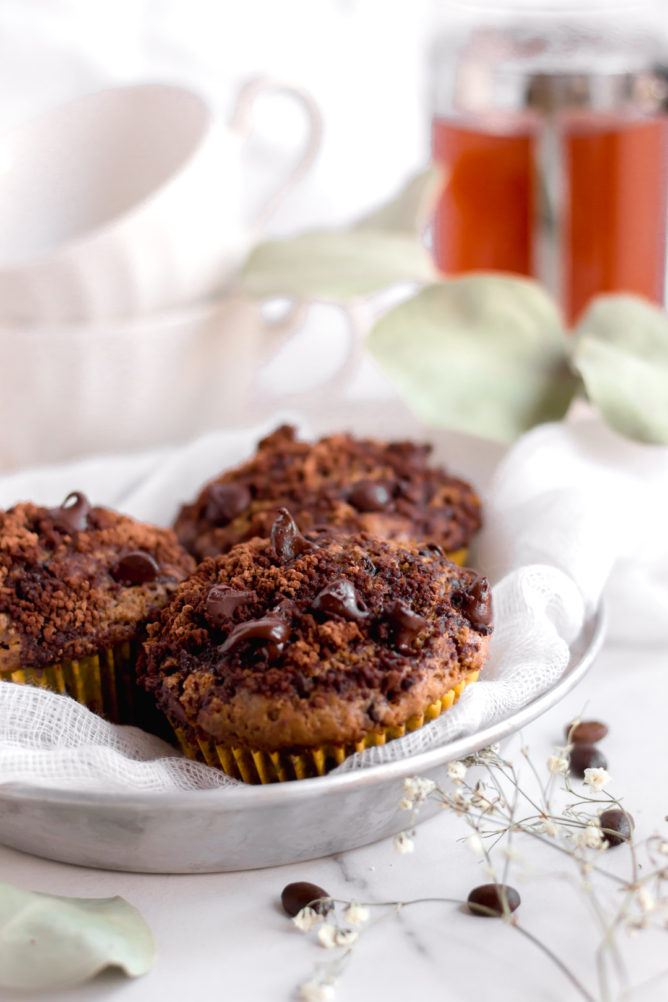 I brought three dozen of these muffins into work on snack day.
I warmed them slightly in the toaster oven before carrying them into the boardroom for our morning meeting.  Halfway through, I could see a few people licking their fingers as they gazed lovingly at their half eaten muffin.  An hour later, all three trays were completely empty.  That's how good these are.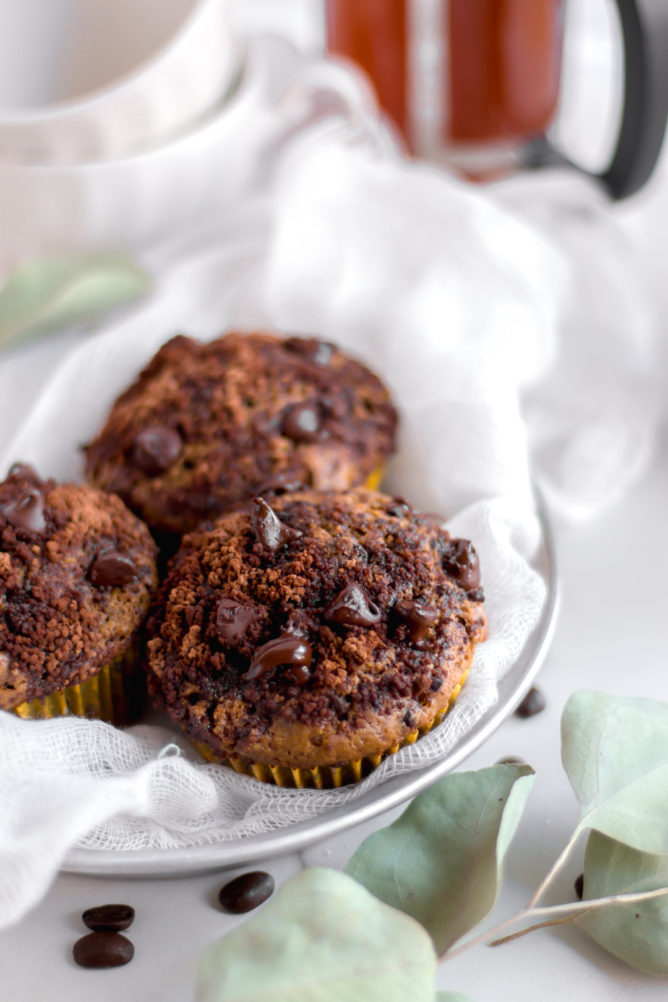 I did make a few minor adjustments to this recipe especially to the type of fat used.  There's good fat and there's really bad fat.
What's the difference?
Good Fats
These are considered healthy fats, supports brain health, and should be included as part of a well-balanced diet.
1)  Coconut Oil, cold pressed
2)  Butter from grass-fed cows or organic
3)  Extra Virgin Olive Oil
Bad Fats
Vegetable oils should be completely avoided.  Unless it's labeled as non-GMO and/or organic, these are highly processed, refined, and have little to no nutritional value.
1)  Soybean
2)  Corn
3)  Canola
4)  Sunflower
5)  Sesame
6)  Safflower
7)  Cottonseed
8)  Grapeseed
9)  Rice Bran
We should all be more aware of what we put into our bodies.  Sometimes all it takes is one small change at a time.
The decision to replace vegetable oil with grass-fed butter also made these muffins taste a hundred times better.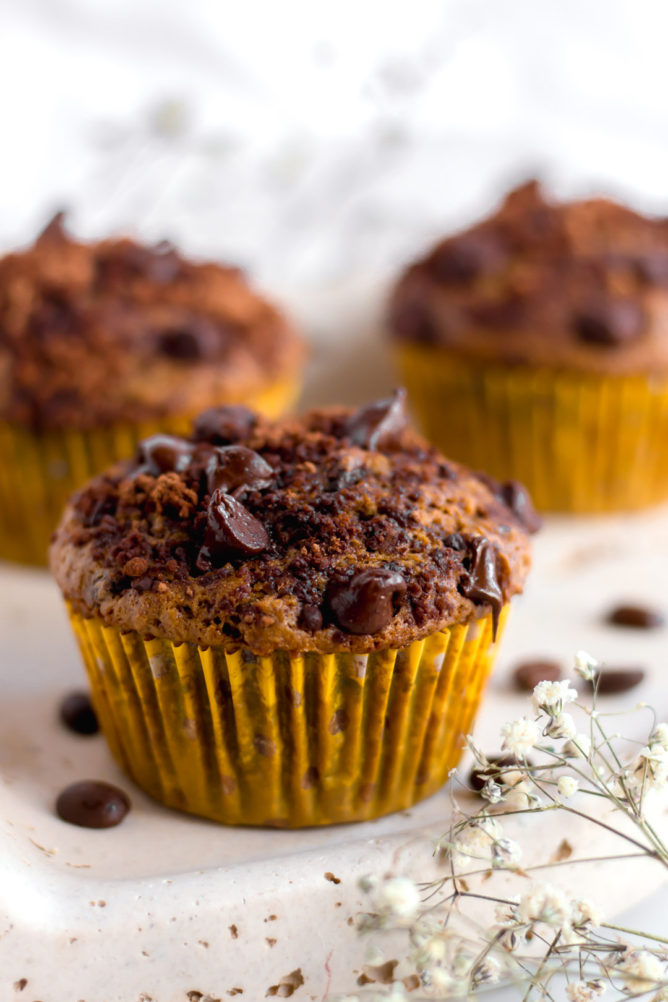 Adapted from Robin Hood.
Cappuccino Muffins
Coffee and chocolate together in a moist and tender muffin.
Ingredients
For the muffin
1/2

cup

butter

3/4

cup

lightly packed brown sugar

organic

1

large egg

1

cup

buttermilk

organic

1

teaspoon

vanilla extract

2

tablespoon

instant espresso or coffee granules

2

cups

AP flour

organic

1

teaspoon

baking powder

1

teaspoon

baking soda

aluminum free

½

teaspoon

cinnamon

ground

1/4

teaspoon

sea salt

1

cup

miniature chocolate chips
For the topping
1/3

cup

packed brown sugar

organic

1

tbsp

cacao powder

1/4

tsp

ground cinnamon

2

teaspoon

instant coffee granules

1/4

cup

miniature chocolate chips
Instructions
Preheat oven to 375 degrees Fahrenheit. Line a 12 cup muffin pan with paper cups.

Cream butter and brown sugar in a large mixing bowl.

Beat in egg.

Stir in buttermilk, vanilla and espresso granules.

Combine flour, baking powder, baking soda, cinnamon, and salt in a large bowl.

Mix dry ingredients in with the wet ingredients just until moistened.

Fold in chocolate chips. Do not over mix.

Scoop batter into prepared muffin pan using an ice cream scoop.

To make the topping: Combine brown sugar, cocoa, cinnamon, coffee granules, and chocolate chips. Sprinkle mixture on top of each muffin.

Bake 15-17 minutes or until a toothpick inserted into the center of the muffin comes out clean.
Notes
Feel free to substitute either 1/2 cup coconut oil or 1/3 cup olive oil.