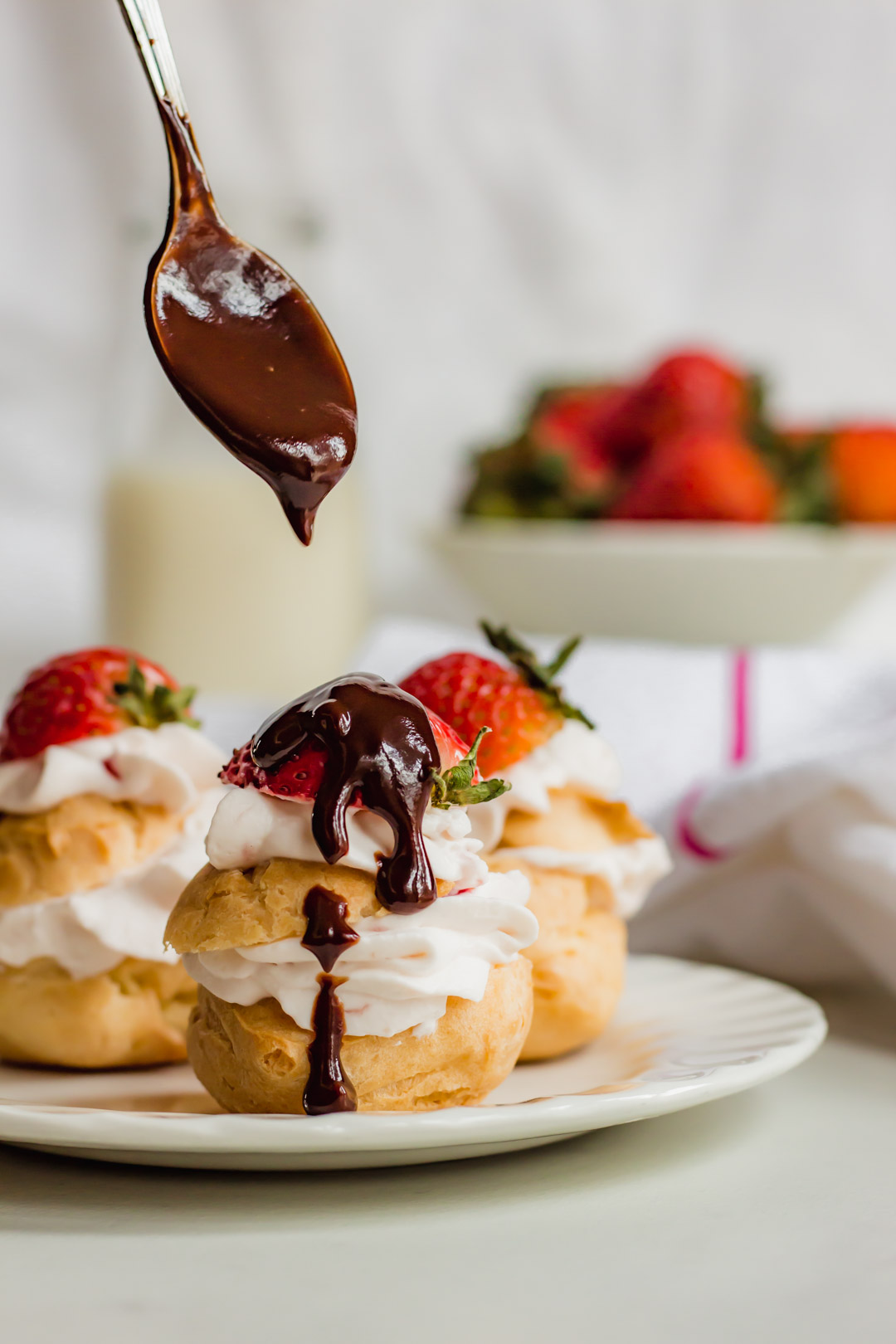 Profiteroles with whipped strawberry cream drizzled with chocolate ganache.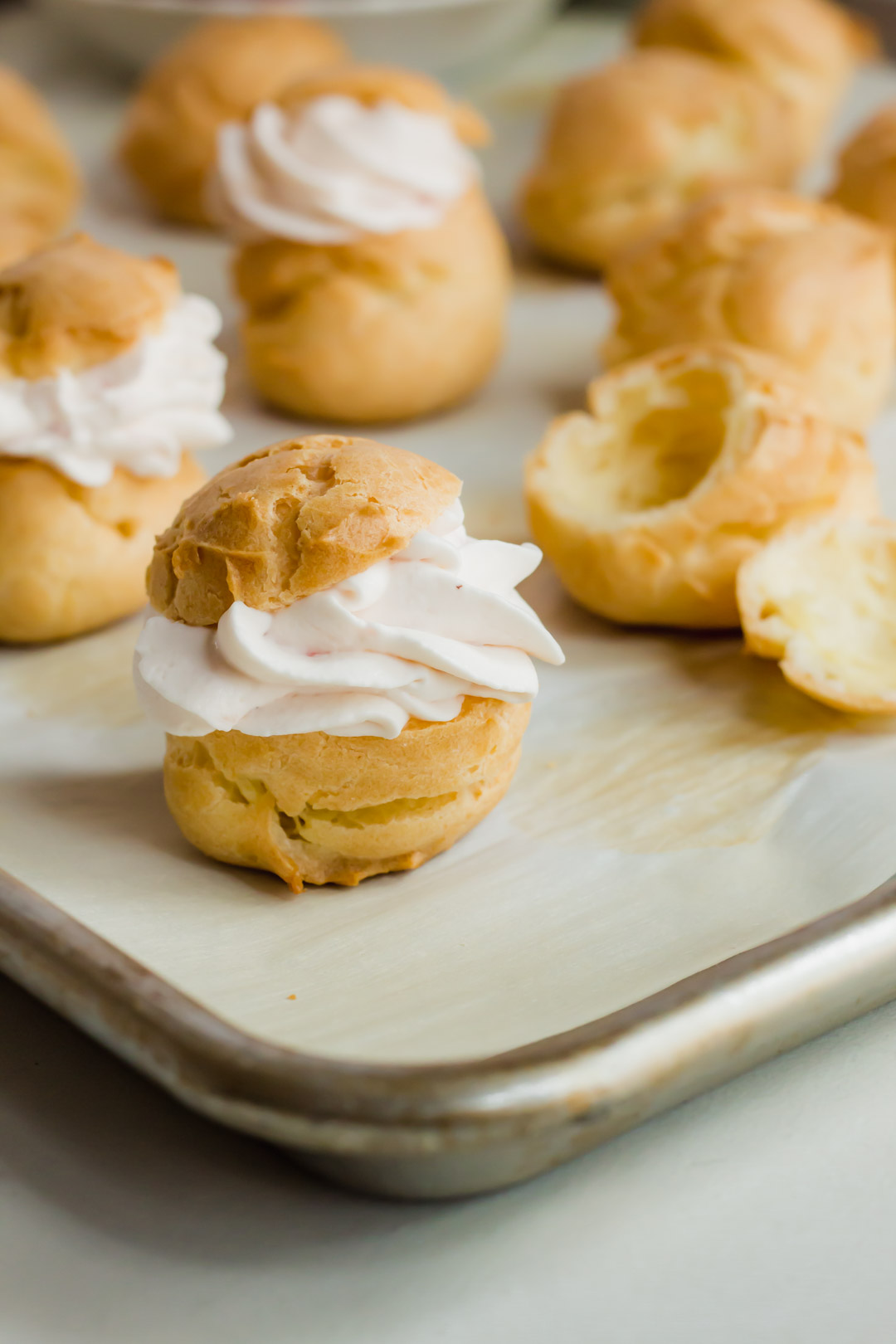 Profiterole is a French dessert made from choux pastry.  This particular recipe consists of 6 ingredients: water, butter, flour, salt, sugar, and eggs.  Pastry skills are not required here.  It literally takes less than 10 minutes to prepare.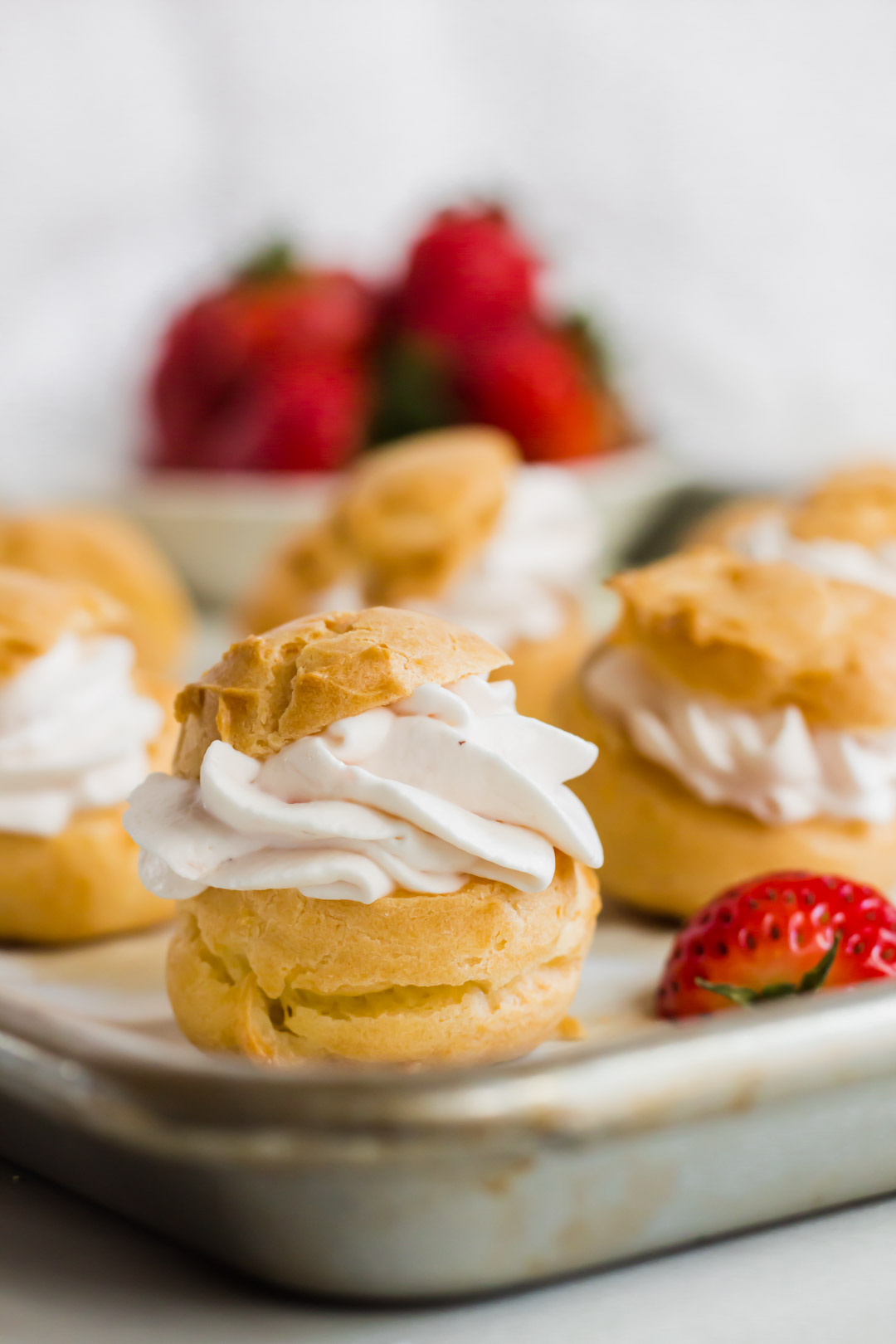 A pastry bag is typically used but my shortcut tip is to use a cookie scoop.  This also helps make them more uniform, the same size and shape.  Scoop the pastry onto a prepared baking sheet.  It rises to form beautiful golden hollow puffs.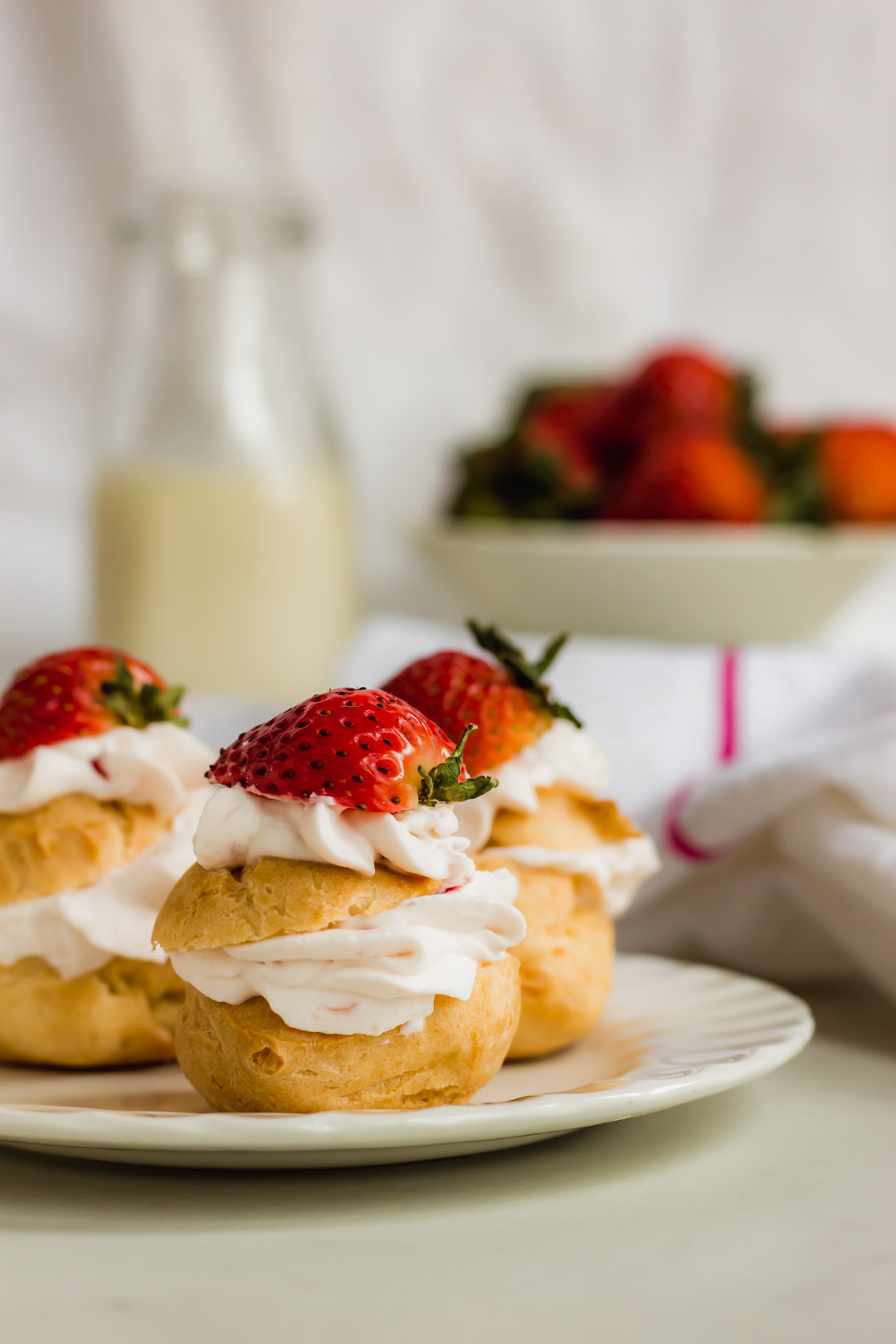 Homemade profiteroles are a million times better than the store-bought version.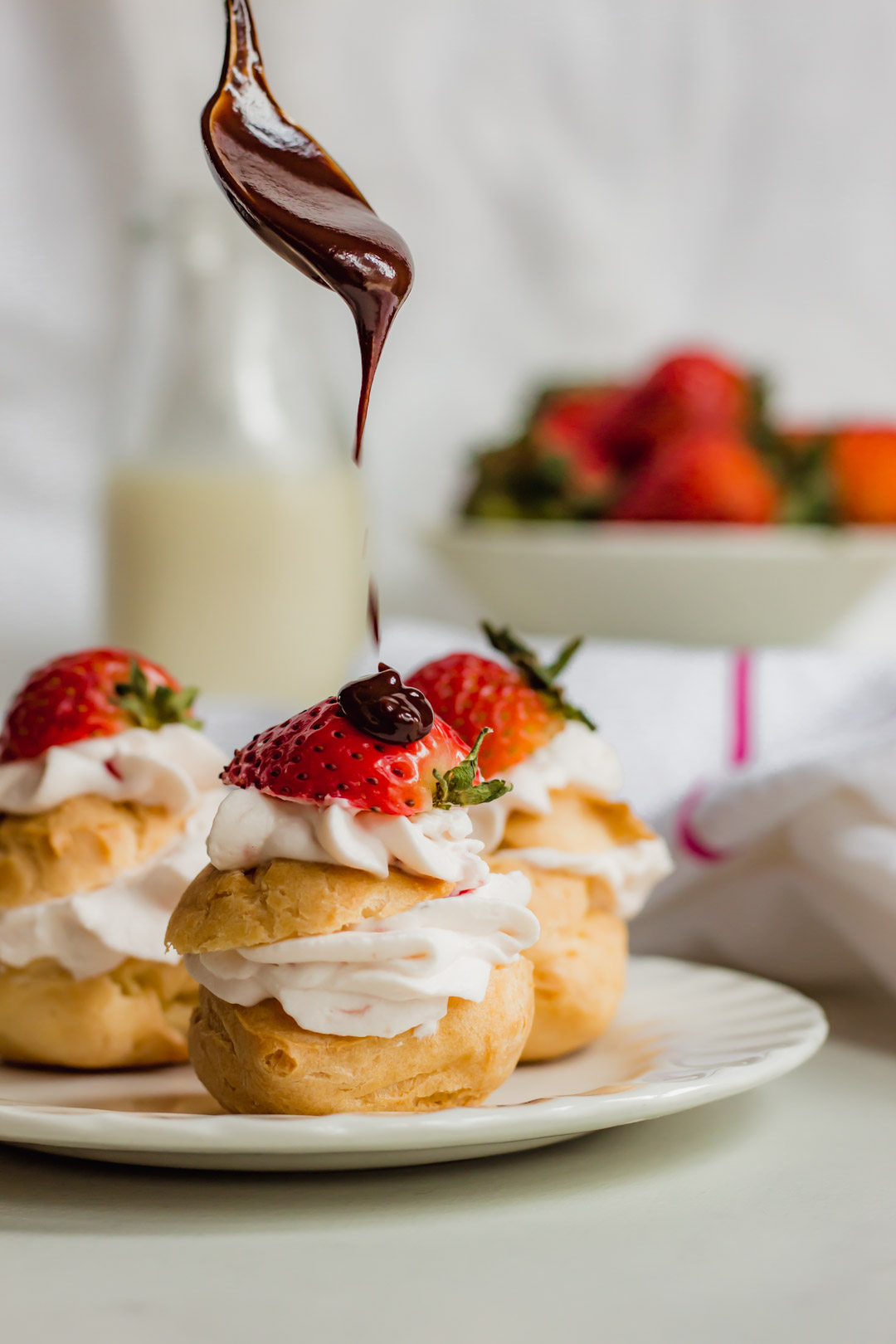 Your family and friends will be amazed you made these yourself, just like mine were.  It'll be our little secret they were so easy.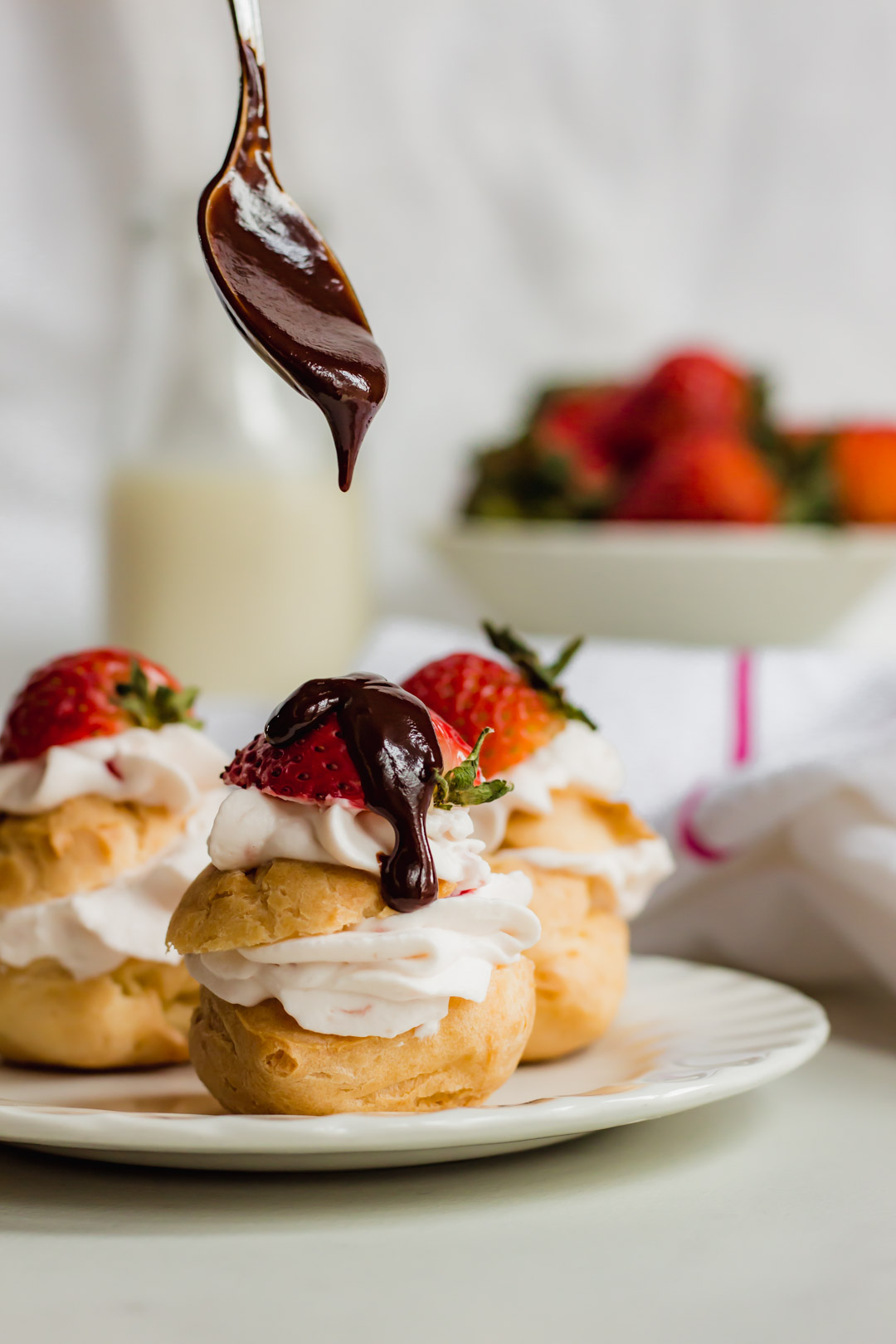 Profiteroles with Whipped Strawberry Cream and Chocolate Ganache
A quick and easy dessert, perfect for sharing with friends and family.
Ingredients
To make profiterole
1/4

cup

unsalted butter

I used Lactantia European Style

1/2

cup

water

1/4

teaspoon

sea salt

1

teaspoon

raw cane sugar or sugar substitute

I used Lakanto

1/2

cup

+ 1 tablespoon AP flour

organic

2

large eggs

free range
To make Strawberry Cream
1

cup

heavy cream

I used Lactantia 35% M.F.

1/2

cup

powdered sugar or adjust to taste

1/2

teaspoon

vanilla extract

1/3

cup

strawberries

crushed
To make Chocolate Ganache
3

ounces

semisweet chocolate chips or good quality dark chocolate

1/3

cup

heavy cream

I used Lactantia 35% M.F.
Instructions
Preheat oven to 425 degrees F. Line a baking sheet with parchment paper.
To make the choux pastry:
Combine butter, water, sugar, and salt in a medium saucepan over medium-low heat.

Slowly bring mixture to a low boil.

Remove from heat the moment it comes to a boil.

Add flour all at once and mix vigorously with a wooden spoon until a smooth ball is formed.

Allow mixture to cool for a few minutes.

Add eggs, one at a time, and beat with a wooden spoon until smooth. The mixture will be thick.

Using a cookie scoop, place scoops of pastry 2 inches apart on baking sheet.

Bake 25 minutes or until light golden in color. Turn off the oven and let sit for another 5 minutes.

Transfer to wire rack to cool.

Pierce the side of each profiterole to allow the steam to escape.
To make the whipped cream:
Whip heavy cream until still peaks form.

Mix in powdered sugar and vanilla.

Fold in crushed strawberries.
To make the chocolate ganache:
Heat heavy cream in a small sauce pan. Add chocolate and stir until completely melted and smooth.

Slice puffs in half, fill with whipped strawberry cream, drizzle chocolate ganache on top. Enjoy!