This magic custard cake is truly quite magical.  Using simple ingredients, the batter separates into three layers as it bakes.  The bottom is a slightly dense custard.  The middle is a smooth and soft custard.  The top is a light and moist sponge cake.
I was intrigued when I found this recipe.  I simply had to try it.
The key is to have all ingredients at room temperature.  The butter should be soft.  The milk should be warm so as to not harden the butter.  The eggs should also be at room temperature.  You can quickly do this by placing them in a bowl of hot tap water for 5 minutes.  Egg whites at room temperature have more lift when whisked.
This cakes centre is a creamy vanilla flavoured egg custard.  Kind of reminded me of a Chinese egg tart.  A nice, light and not overly sweet dessert.
Magic custard cake.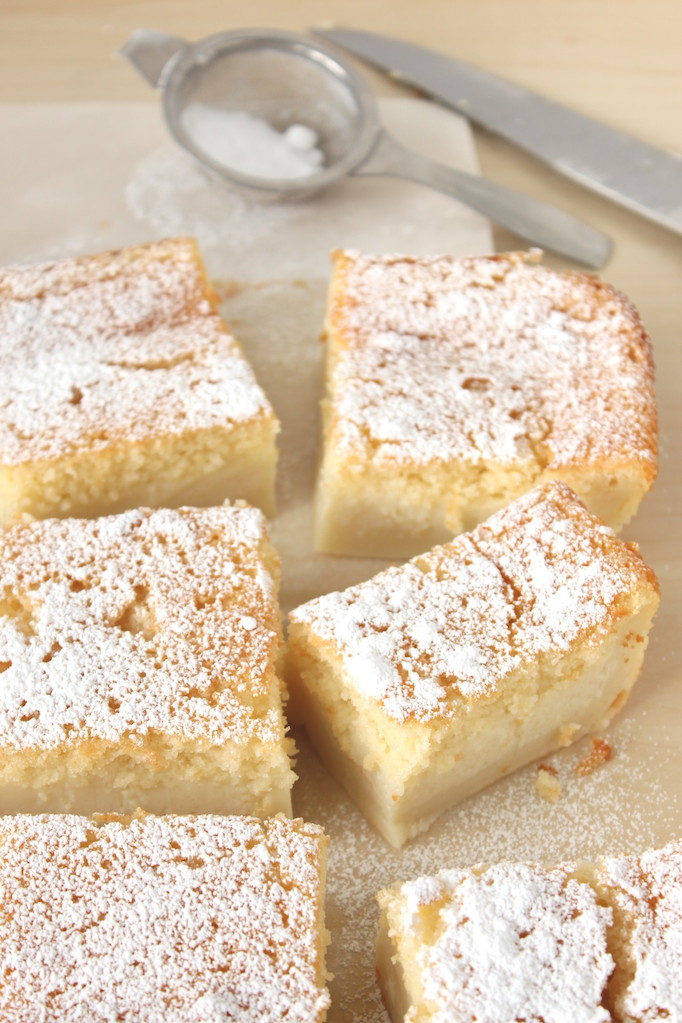 I enjoyed it.  I hope you will too.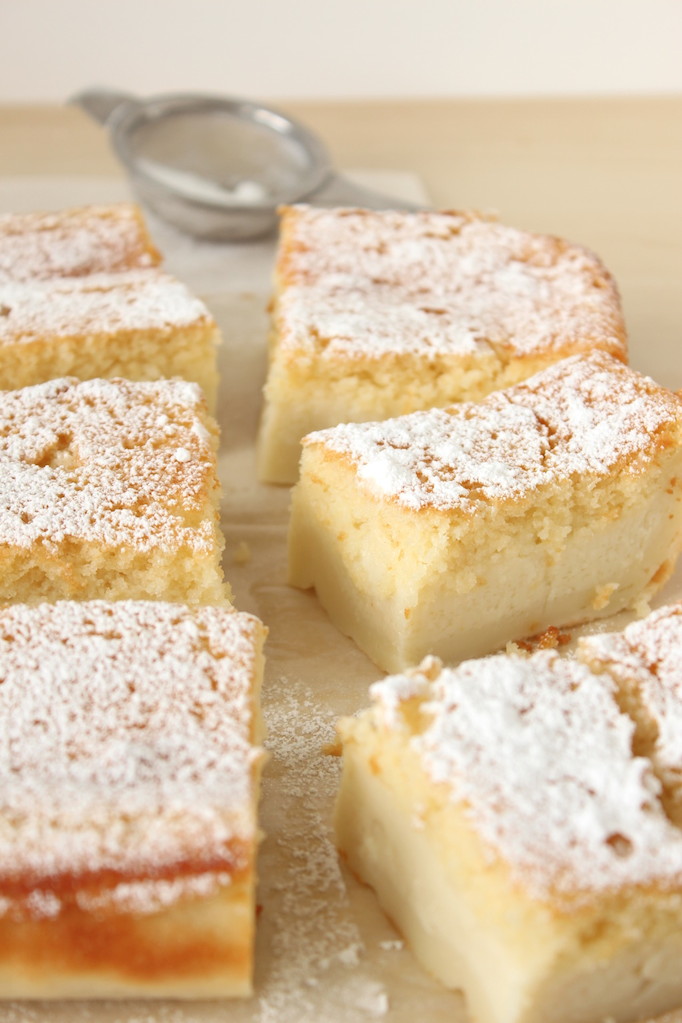 Adapted from WhiteOnRiceCouple and Mabel Mendez.
Magic Custard Cake
Author:
Prep time:
Cook time:
Total time:
Serves:
one 8×8 inch cake
Ingredients
4 large eggs, separated at room temperature
3/4 cup granulated sugar
1/2 cup unsalted butter, at room temperature
3/4 cup all-purpose flour
2 cups milk, lukewarm
1 teaspoon vanilla extract
icing sugar for dusting
Instructions
Preheat oven to 325 degrees Fahrenheit. Lightly grease an 8 x 8 inch square cake pan and line with parchment paper.
Warm milk in microwave and set aside.
Using an electric mixer, whisk egg whites on high speed until soft peaks are formed. Transfer to another bowl. Set aside.
Add egg yolks and sugar to mixing bowl and beat until smooth, creamy and pale yellow in colour.
Add butter and continue mixing for approximately 2-3 minutes on high speed.
Mix in flour until incorporated.
Slowly add the milk and vanilla, beating at low speed.
Gently fold in egg whites, 1/3 at a time. The batter will be quite thin. It will be difficult to fully incorporate the egg whites.
Pour batter into prepared cake pan.
Bake 50-60 minutes or until top is lightly golden and firm to the touch.
Let cool completely.
Dust with icing sugar.