Apples and cinnamon enveloped in a light and flaky pastry.  This is simply the easiest method for making homemade apple turnovers.
But which apples should I use?
Taste and texture are important.  There are some apples that should only be eaten fresh and there are others that are better when cooked.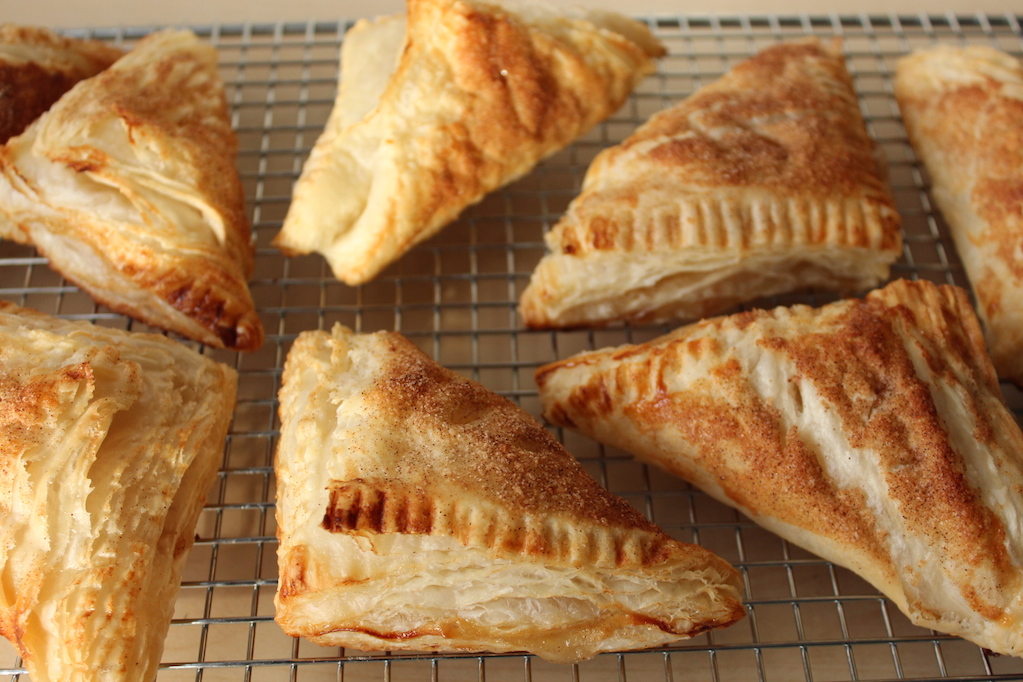 I've recently become a big fan of J. Kenji López-Alt who is the Managing Culinary Director of Serious Eats.   He tested 10 varieties of apples by baking 10 apple pies!  To read more, here is his post:  What are the best apples for pie?
A brief summary of his results:
Red Delicious – turns to mush; best eaten fresh
McIntosh – turns brown and mushy; best for apple sauce
Braeburn – good texture and taste; best for pies, tarts, sauce, and eaten fresh
Rome – turns brown and mushy; best for sauce
Fuji – mild flavour; best eaten fresh
Golden Delicious – best flavour; best for pies, sauce, apple butter
Cortland – lacks flavour; best for apple sauce and eaten fresh
Empire – too sweet; best eaten fresh
Gala – grainy texture; best eaten fresh
Granny Smith – lacks flavour; best eaten fresh
Braeburn and Golden Delicious are the clear winners.  Use one variety or a mixture of both in your turnovers.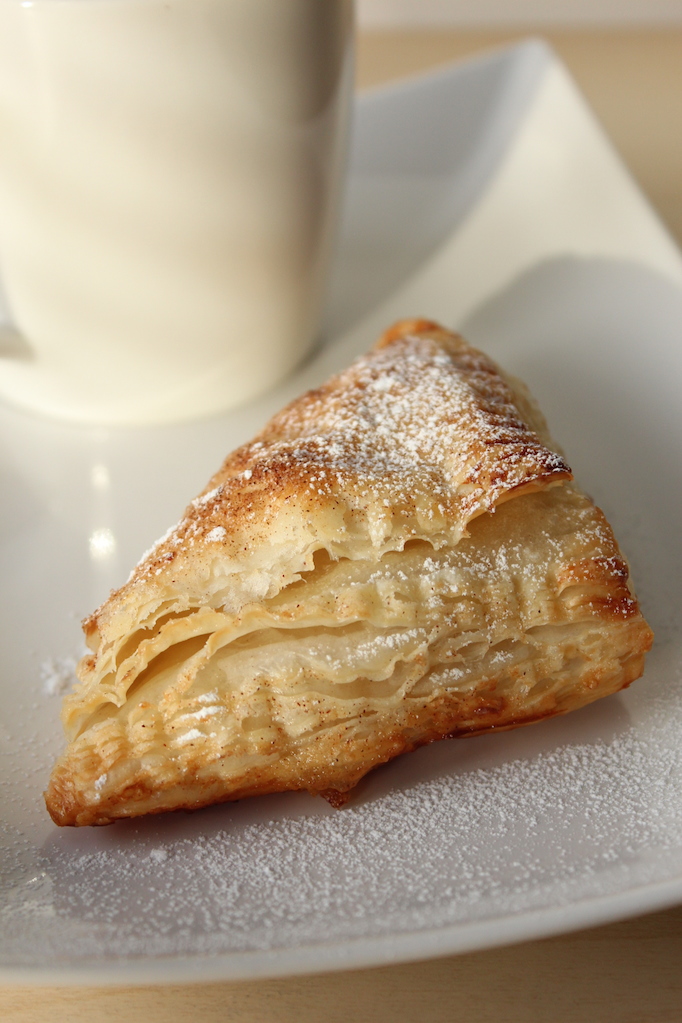 Cooking the apples first before filling the turnovers is also a must.  This ensures the apples are cooked through after baking.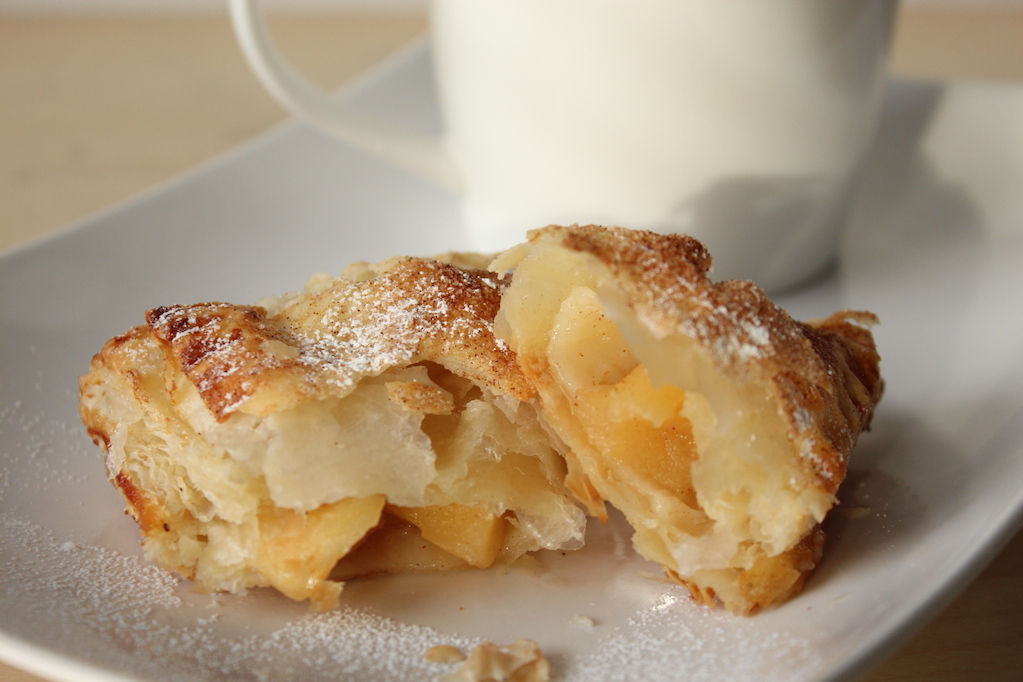 Puff Pastry Apple Turnovers
Author:
Prep time:
Cook time:
Total time:
Ingredients
3 apples, peeled, cored and cut into 1/2 inch cubes
5-6 tablespoons water
3 tablespoons granulated sugar, or to taste
1/2 teaspoon fresh lemon juice
1/4 teaspoon cinnamon
Pinch of nutmeg
1 egg yolk, beaten
1 package store bought puff pastry, thawed
Cinnamon sugar, optional
Instructions
Preheat oven to 400 degrees Fahrenheit. Line a baking sheet with parchment paper.
Combine apples, water, sugar, lemon juice, cinnamon and nutmeg in a large saucepan.
Cook over medium heat, stirring occasionally, until apples soften but still hold their shape, approximately 8-10 minutes.
If apples become dry, add more water, 1 tablespoon at a time.
Roll out puff pastry into two 9 x 9 squares. Cut each square into 4 squares of equal size.
Place puff pastry onto prepared baking sheet.
Place approximately 2 tablespoons of apple filling in the centre of each square.
Lightly brush egg yolk around the edges of the puff pastry.
Fold over and press the edges together, using a fork, to seal in the apple filling.
Brush top with egg wash.
Sprinkle with cinnamon sugar, if desired.
Bake for 20-23 minutes or until lightly browned and puffed.
Transfer to wire rack to cool completely.
Notes
Cinnamon sugar: mix 1 tablespoon sugar with 1 teaspoon cinnamon in a small bowl.