Are you looking for a quick breakfast that will give you the energy you need?  Then start your day with this delicious coconut walnut granola.  Packed with fibre and protein, this wholesome granola will keep you energized.
There's no processed or refined sugar here.  Maple syrup is what gives this granola its fantastic flavour.
Ground flaxseed is added for a fibre boost.  This granola delivers over 10 grams of protein per serving.  Highly recommended by me, especially for my son who's an active all-star hockey player. Ok, maybe not quite an all-star… yet.  Through my eyes, definitely.
Homemade granola is so easy to make.  Two bowls, a spoon for stirring and a baking sheet is all the equipment you need.  You'll have yummy granola, fresh out of the oven in 30 minutes.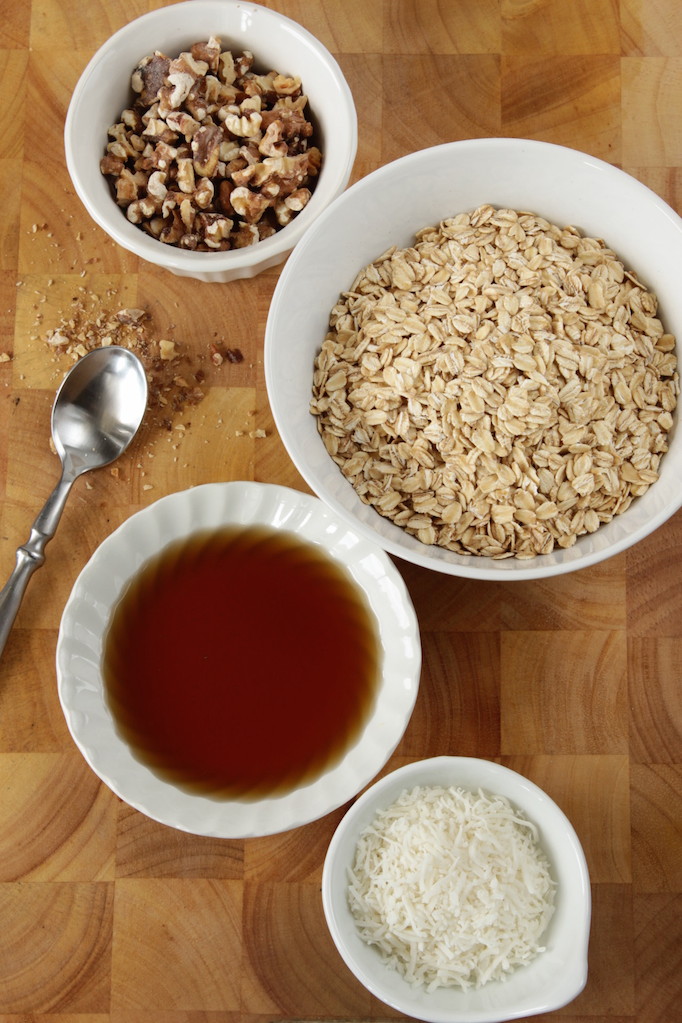 Combine rolled oats walnuts, coconut and flaxseed in a large bowl.  Substitute the walnuts with almonds if you prefer.  Mix the maple syrup, coconut oil, coconut extract and salt together then add into the oats mixture.
Stir and stir some more.  Stir until all ingredients are evenly coated.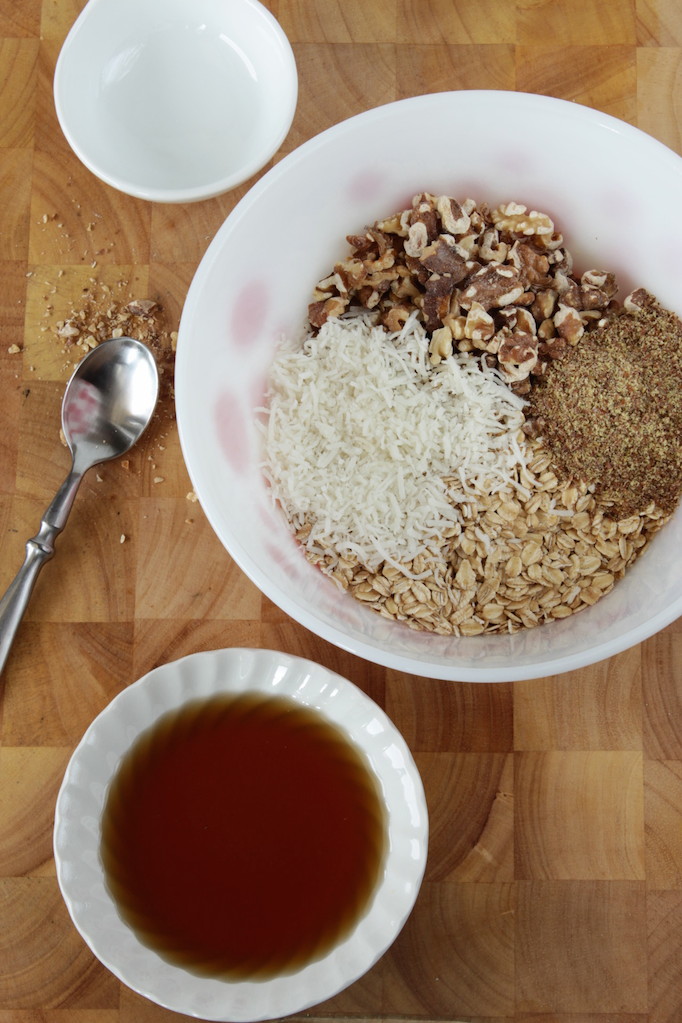 Spread onto a baking sheet.  Bake for 10 minutes.  Take it out and give it a quick stir.  Bake for another 10 minutes, or until lightly golden.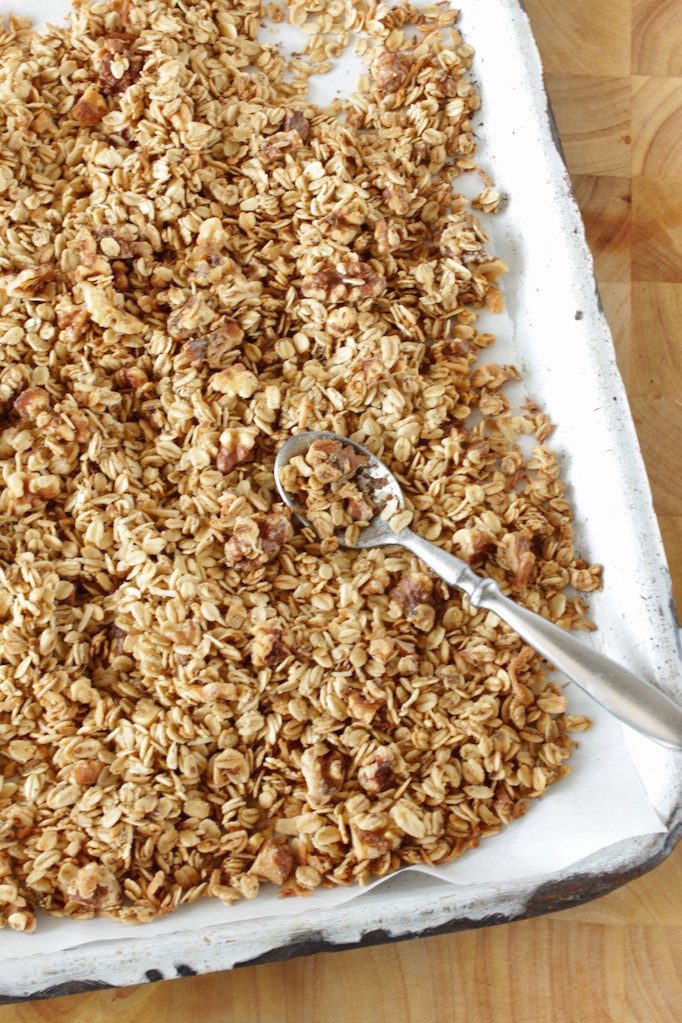 Let cool and enjoy.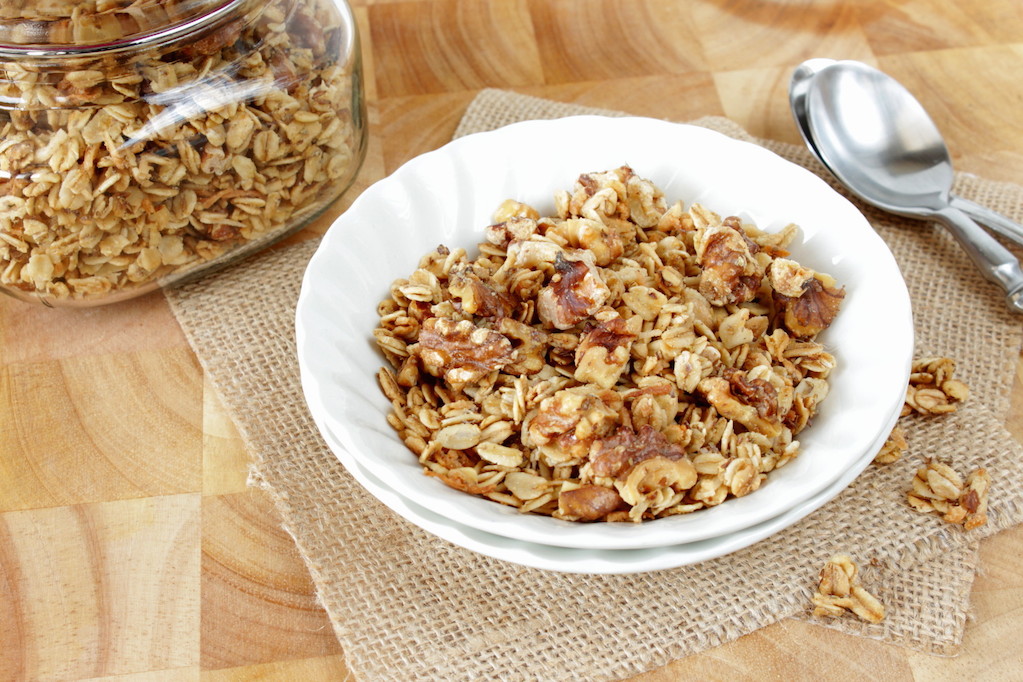 Adapted from The Beauty Detox Diet by Rockridge Press.
Coconut Walnut Granola
Author:
Prep time:
Cook time:
Total time:
This delicious and wholesome granola will keep you energized through the morning.
Ingredients
2 cups rolled oats
1/2 cup walnuts, chopped
1/4 cup flaked coconut, unsweetened
2 tablespoons flaxseed, ground
1/3 cup maple syrup
3 tablespoons coconut oil
1/2 teaspoon coconut extract
1/4 teaspoon sea salt, fine
Instructions
Preheat oven to 300 degrees Fahrenheit. Line a baking sheet with parchment paper.
Combine the rolled oats, walnuts, coconut, and flaxseed in a large bowl.
Whisk together maple syrup, coconut oil, coconut extract and salt in a separate bowl.
Pour the wet ingredients into the dry. Mix thoroughly to combine.
Spread granola onto prepared baking sheet.
Bake for 10 minutes. Stir the granola.
Bake for a further 10 minutes or until lightly browned.
Let cool completely. Store in an airtight container.
Serving size:
1/2 cup
Calories:
369.7
Fat:
17.1
Saturated fat:
10.5
Trans fat:
0
Carbohydrates:
46.2
Sugar:
13.1
Sodium:
13.9
Fiber:
6.1
Protein:
10.3
Cholesterol:
0