Crepes, or French pancakes, filled with macerated strawberries and blueberries.  Dusted lightly with icing sugar and drizzled with chocolate.
Crepes are thin, light, delicate pancakes.  Its batter consists of only 6 ingredients: water, milk, eggs, salt, flour and butter. Combine all ingredients in a blender and blend for one minute.  It's literally that quick and easy.
This recipe is adapted from Julia Child, Mastering the Art of French Cooking.  In the book, she recommended the batter be made two hours before it is used.  This is so the flour can expand in the liquid.  The result is a more tender, light and thin crepe.
I kind of wondered, does this really make a difference?  Is the two hour wait worth it?
So I tested it.  I made half the recipe then refrigerated the batter for two hours.  At the end of two hours, I made another fresh batch of crepe batter.  Cooked one crepe from the first batch and then another crepe from the second batch.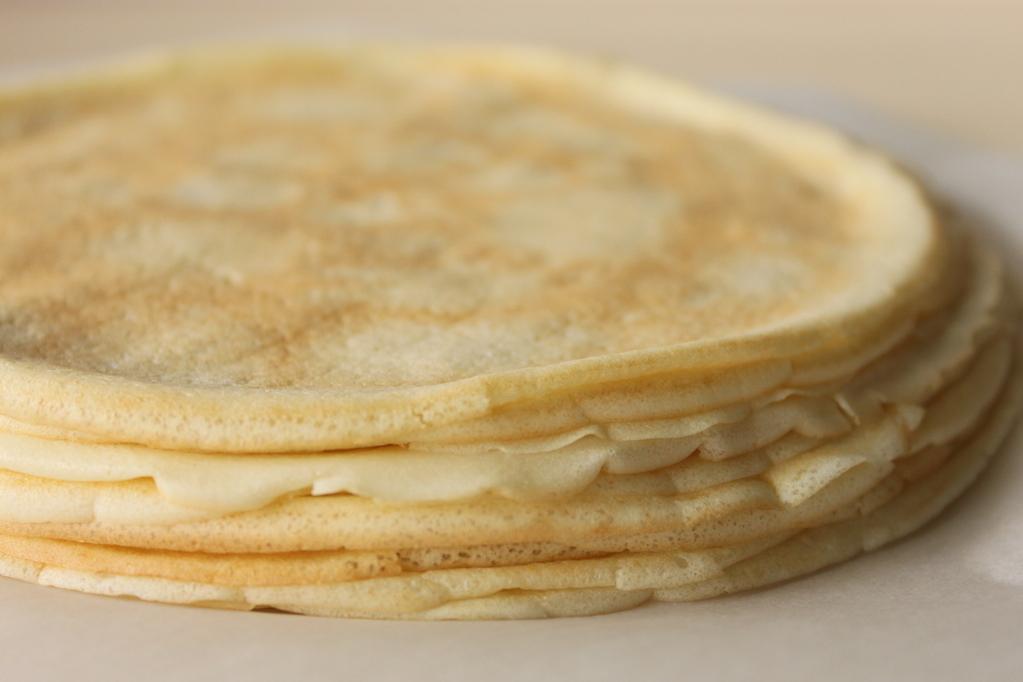 I compared the look and taste of both crepes.  Nicki, my other taste tester, did the same.
The result?
To our untrained tastebuds, we could not tell the difference.  The two hour batter might have had less bubbles in the crepe but they both tasted the same.
In my opinion, the two hour wait is not worth it.  Once the batter is blended, you're ready to go. Thanks Julia, for the awesome recipe but I'll be skipping the two hour wait from now on.
These crepes were whipped up and served in less than 35 minutes.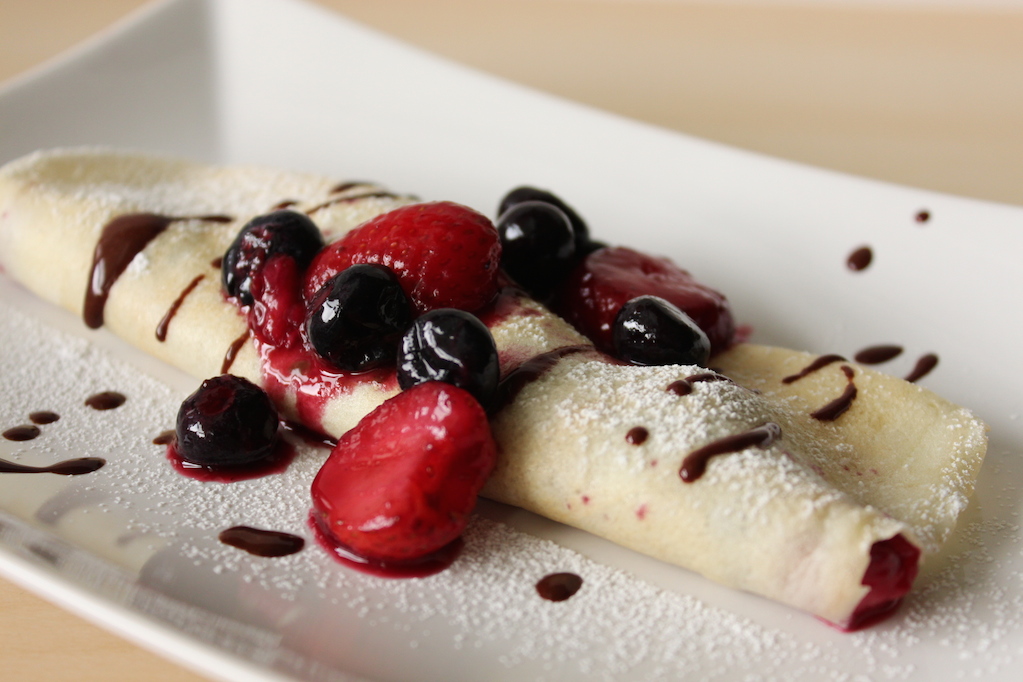 Adapted from Julia Child, Mastering the Art of French Cooking.
French Crepes
Author:
Prep time:
Cook time:
Total time:
Serves:
20 crepes 7″ in diameter
Ingredients
1 cup cold water
1 cup milk
4 large eggs
1/2 teaspoon salt
1 1/2 cups flour
4 tablespoons melted butter
berries, optional
icing sugar, optional
chocolate, optional
Instructions
Place water, milk, eggs, salt, flour, and butter in a blender.
Blend for 1 minute at top speed.
Heat a lightly oiled small non-stick skillet on medium high heat.
Remove from heat and ladle a little less than 1/4 cup of batter into the skillet.
Quickly tilt the skillet in all directions until the batter is evenly distributed along the bottom.
Cook for approximately 60 seconds.
The edges will begin to pull away from the sides and bottoms will be lightly brown.
Flip it over to the other side and cook for another 30 seconds.
Transfer to a wire rack to cool slightly before serving.
To make macerated berries: mix sugar, to taste, with fresh or frozen berries. Let stand for 30 – 60 minutes.
Place a few spoonfuls of berries along the centre of the crepe and roll it over.
Dust lightly with icing sugar.
Drizzle chocolate and add extra berries on top. Serve
Notes
Crepes can be frozen for up to four months.