Light and fluffy gluten-free pancakes with homemade blueberry sauce.  Perfect for a lazy Sunday morning.
I'm always looking for ways to make a meal healthier.  Even the smallest changes add up over time.  For this recipe, I substituted regular all-purpose flour for gluten-free flour.  My daughter is sensitive to wheat.  Coconut oil was substituted for butter since it's a healthier option.  I also added flax meal for a boost of fibre and omega-3s.
For the blueberry sauce, I decided to experiment a little.  Instead of adding granulated sugar, I substituted honey.  Here's why:
1)  Honey has small amounts of minerals and vitamins, sugar has none.
2)  Honey has a healthier glycemic index than sugar.
3)  Honey tastes better than sugar.
4)  Honey is lower in fructose and glucose.
5)  Honey is all natural, granulated sugar is processed.
I tested this recipe for blueberry sauce using honey.  I then tested it again using granulated sugar.  There was a huge difference in the flavour.
I have to be honest, although honey is healthier, it drowned out the flavour of the blueberries.  Sugar gave the blueberries a fresher taste.  Adding lemon juice enhanced the flavour.
Although my intentions were good, I would recommend using granulated sugar.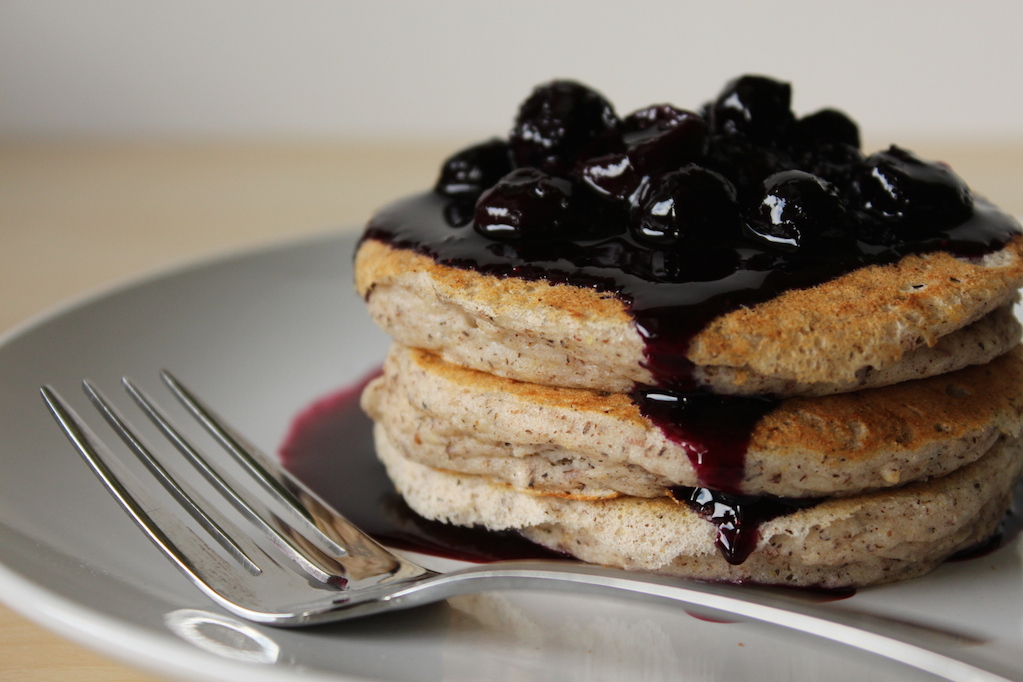 Homemade blueberry sauce poured over light and fluffy pancakes is pure delight.
All I can say is YUM!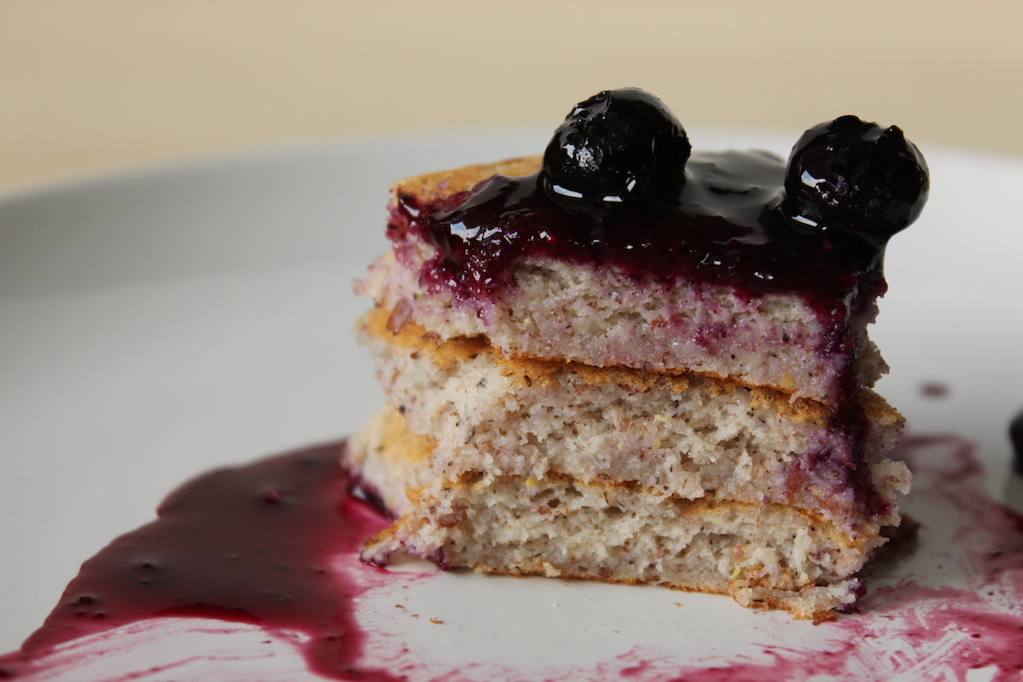 Adapted by Canadian Living Magazine and My Baking Addiction.
Gluten-Free Pancakes with Blueberry Sauce
Author:
Prep time:
Cook time:
Total time:
Serves:
12 pancakes 1 1/2 cups sauce
Ingredients
1 cup GF all-purpose flour
1 teaspoon baking powder
1 teaspoon baking soda
1 teaspoon cinnamon
1/4 tsp salt
1 3/4 cup buttermilk
1 large egg
1 tablespoon coconut oil
2 tablespoons flax seed meal
2 cups blueberries, fresh or frozen
1/2 cup sugar
1/4 cup water
2 tablespoon lemon juice
2 teaspoon cornstarch
Instructions
Whisk together GF flour, baking powder, baking soda, cinnamon and salt in a large mixing bowl.
Whisk together buttermilk, egg, coconut oil and flax seed meal in another medium bowl.
Pour buttermilk into flour mixture. Whisk until combined.
Heat oil in a medium saucepan over medium heat.
Drop batter onto saucepan using an ice cream scoop.
Cook until bottoms are golden brown then flip.
Continue to cook until bottoms are golden brown and pancakes are cooked through.
Transfer to serving dish.
To make blueberry sauce: Place blueberries, sugar, water and lemon juice in a medium saucepan over medium low heat.
Cook, stirring occasionally, until mixture comes to a low boil.
Mix cornstarch with 2 teaspoon water in a small bowl.
Stirring gently, pour cornstarch slowly into blueberries.
Simmer until sauce thickens, about 2-3 minutes.
Serve warm or cold.