Wonton soup is a dish I grew up with.  Tender dumplings filled with lean ground pork and prawns in chicken broth.  I found it to be rather comforting on a cold winter's day.  Now my kids enjoy it when it's being served at their grandparents.  It's one of their favourite dishes.   
I recently asked my Mom for her recipe.  She listed off the ingredients but when she cooks, its more like, "add some soya sauce, not too much pepper, a little sesame oil…".  As to the amount, it's anybody's guess.
I experimented and came up with my own measurements.  The final result?  It tastes just like my Mom's!  I did leave out water chestnuts since I'm not a fan.  If desired, you can add 3 chopped water chestnuts to the recipe.
How To Wrap a Wonton
There are many ways to wrap a wonton.  This is how I did it:
1)  Place a wrapper in the palm of your hand.
2)  Add a teaspoon of the meat mixture to the middle of the wrapper.
3)  Dip one finger in water and wet the area around the meat mixture.
3)  Enclose the meat mixture by bringing two opposite corners together.
4)  Gather and fold the other two corners inside the opposite corners.
5)  Pinch the area just above the filling to seal.
The wonton should resemble a pouch gathered in the middle.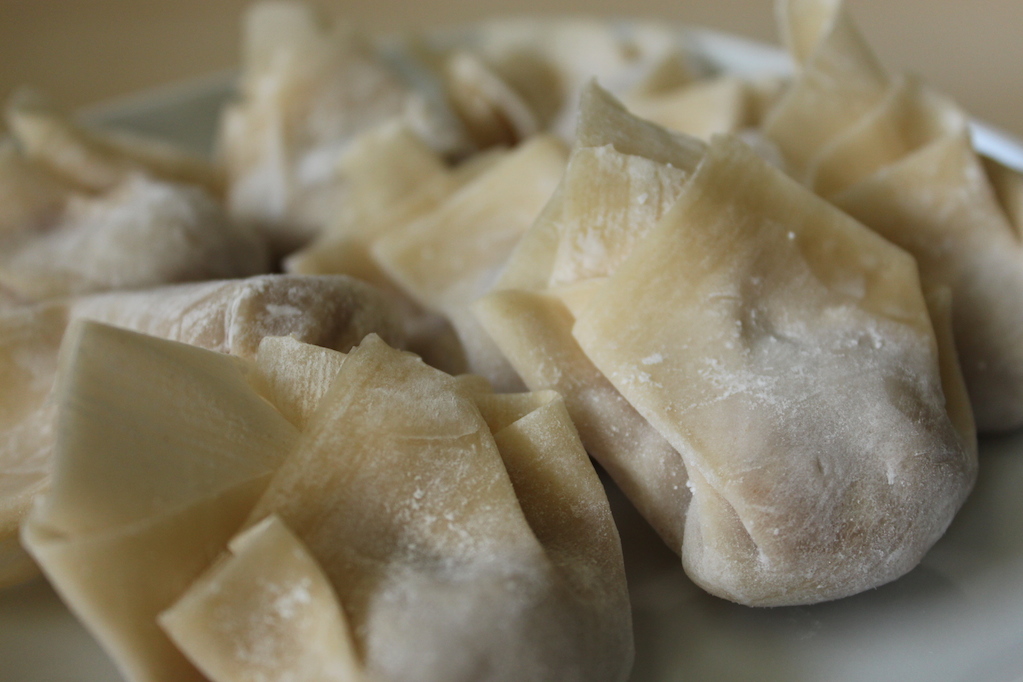 Wontons should be cooked separately from the chicken broth.  The wrappers contain an excessive amount of flour to prevent sticking.  Boiling the wontons separately prevents the broth from becoming cloudy and thick like glue.
This recipe makes enough to fill an entire package of wrappers, approximately 5 1/2 dozen.  Freeze the rest for a quick soup.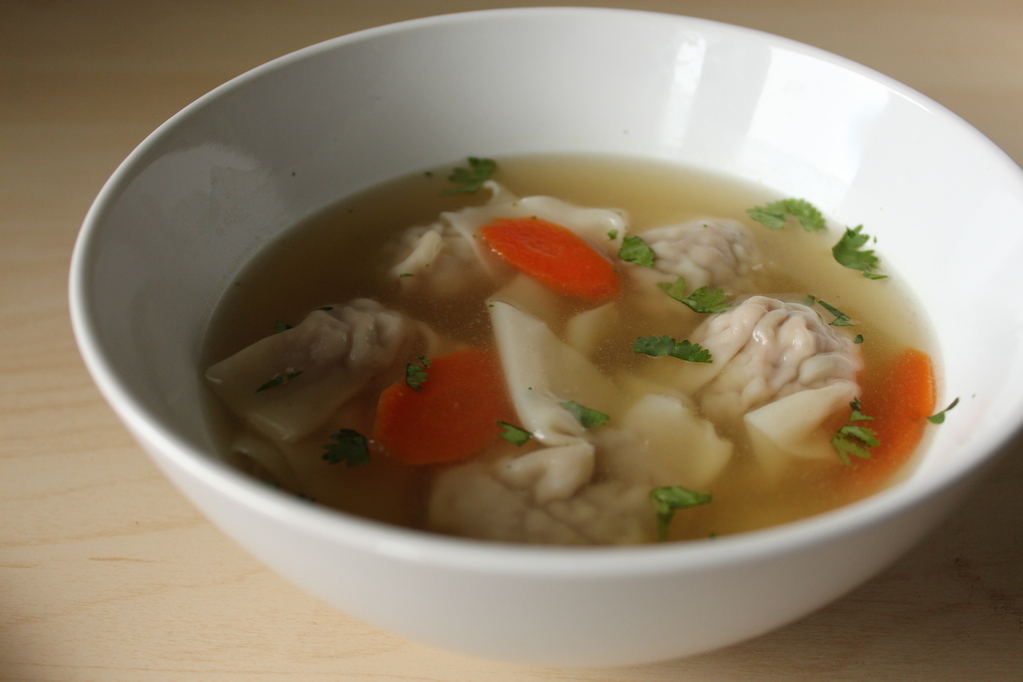 Wonton Soup
Author:
Prep time:
Cook time:
Total time:
Serves:
Approx 65 wontons
An authentic recipe for wonton soup. Tender dumplings filled with lean ground pork and prawns. Comforting on a cold winter's day.
Ingredients
8 prawns, shelled, deveined and chopped
1 teaspoon sesame oil
dash of salt and pepper
1 lb lean ground pork
1 egg, beaten
1 tablespoon light soy sauce
1 teaspoon powdered chicken stock mix
1 454g package wonton wrappers
3 cups chicken broth
cilantro or green onions for garnish
Instructions
Place shrimp in a small bowl.
Add sesame oil, salt and pepper. Set aside and allow to marinade.
Place ground pork in a large bowl.
Mix in egg, soy sauce and chicken stock mix.
Add prawns. Mix well.
Follow the instructions above on how to fill each wonton.
Heat chicken broth in a medium saucepan.
Bring water to a boil In another medium saucepan.
Drop wontons into the boiling water. About 5 wontons per serving.
Boil until wontons rise to the top. This is how you know they are cooked.
Transfer wontons to a serving bowl using a slotted spoon.
Pour chicken broth over wontons.
Garnish with cilantro or chopped green onions.
Notes
If desired, add 3 water chestnuts, chopped.[br]Place the remaining uncooked wontons on a tray, in a single layer, and freeze. Transfer to a freezer bag.