Peaches and blueberries sprinkled with coconut crumble and baked until hot and bubbly.  Frozen peaches and blueberries are used here.  This is a wonderful way to enjoy seasonal fruit throughout the entire year.
During the summer, when peaches were in season, I purchased a 10 pound flat of Red Havens.  Red Havens are freestone peaches, as opposed to clingstone, the flesh easily separates from the pit.  It's the perfect peach for canning, freezing or eating fresh.
We managed to eat a few while still fresh but the rest ripened quickly and ended up in the refrigerator.
Freezing them was the next best option.
To freeze peaches:
1)  Remove the skin by placing fresh peaches in a pot of boiling water for 1 minute.  Immediately drop them into cold water.  The skins should peel off very easily.
2)  Slice into segments and toss with lemon juice to prevent browning.
3)  Line a baking sheet with parchment paper and place sliced peaches in a single layer.  Cover with plastic wrap and freeze.  Once frozen, transfer to freezer bags.
Freezing blueberries is much easier.  Place berries in a single layer on a baking sheet.  Cover with plastic wrap and freeze.  Transfer to freezer bags once frozen.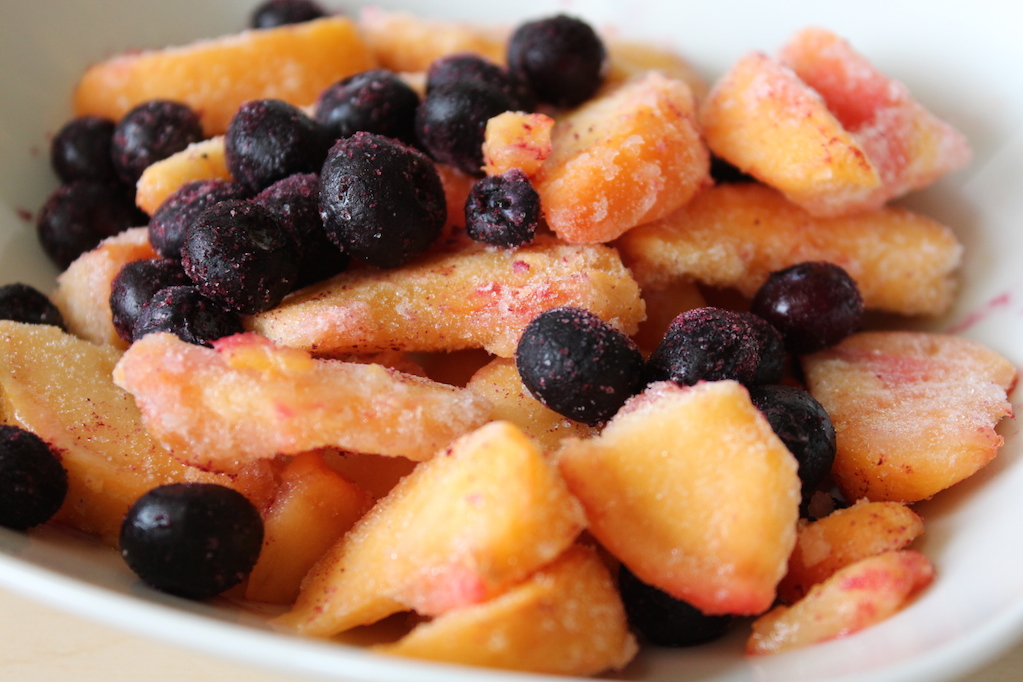 To make the crumble, toss the frozen peaches and blueberries with sugar and flour.  Mix flour, coconut, sugar, vanilla and butter together for the crumble and sprinkle generously over the fruit.  It's that simple.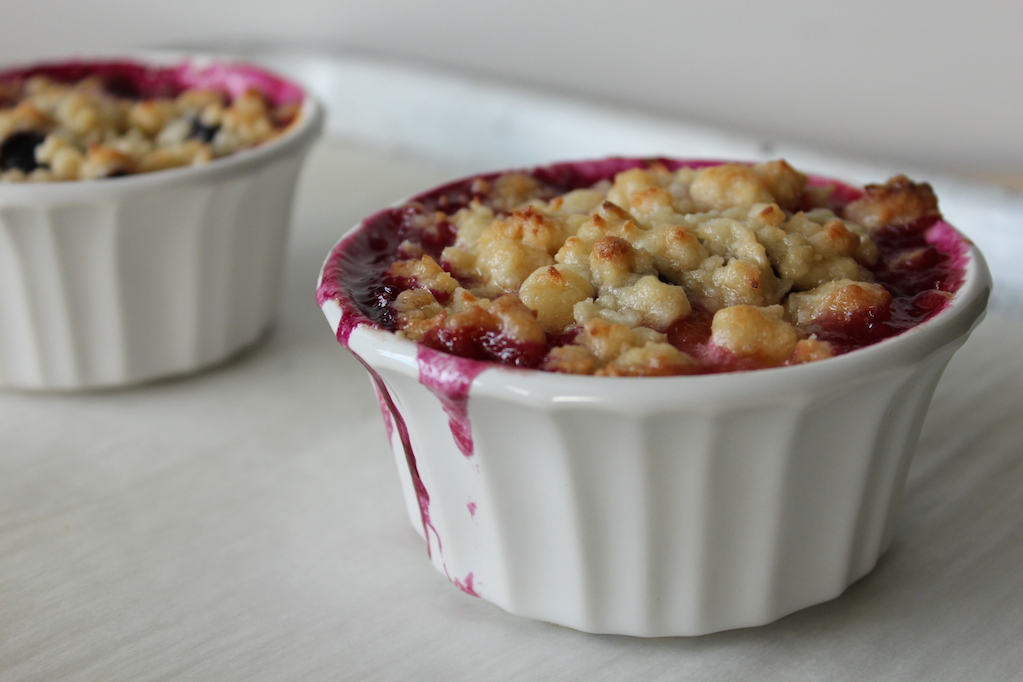 Adapted from Donna Hay, The New Classics.
Peach, Blueberry and Coconut Crumble
Author:
Prep time:
Cook time:
Total time:
Ingredients
3 cups peaches, sliced
1 cup blueberries
1/4 cup sugar
1 tablespoon flour
2/3 cup coconut, shredded and sweetened
1/3 cup sugar
1 cup all-purpose flour
1 teaspoon vanilla
1/2 cup unsalted butter
Instructions
Preheat oven to 375 degrees Fahrenheit. Line a baking sheet with parchment paper.
Mix peaches, blueberries, 1/4 cup sugar and 1 tablespoon flour together in a large bowl. Set aside and allow to thaw slightly at room temperature.
For the crumble: Combine coconut, sugar, flour, vanilla and butter. Using a fork, cut butter into dry ingredients until it resembles coarse crumbs.
Divide fruit into 4 – 7 oz ramekins.
Sprinkle with crumble.
Place ramekins on prepared baking sheet.
Bake 25-30 minutes or until hot and bubbly.