Delicate, light and airy, these salted caramel swirl meringue cookies make beautiful gifts for Christmas gift giving.
Yes, you read it correctly.  It's that time of year.  Here we are, it's mid November, and I'm thinking of Christmas.  My daughter, Nicki, started her Christmas shopping  more than two weeks ago.  I'm one of those people that usually leaves it till the last minute.  But not this year.  I've decided to start early with my Christmas baking.
I spotted these salted caramel swirl meringue cookies in the latest issue of Donna Hay magazine, Dec/Jan 2015 edition.  They look absolutely beautiful.  I simply had to try it.
Here are a few helpful tips before whipping egg whites:
1) The bowl and whisk must be super clean.  Any trace of food particles or oil will prevent the egg whites from whipping properly.
2) Egg whites should be at room temperature.  If I forget to take them out of the fridge, I'll place them in a bowl of hot tap water for approximately five minutes.  This quickly brings them to room temperature.
3) If the egg floats in the water, it means they are old.
4) When separating the eggs, make sure there are no yolks in the egg whites, otherwise, they will not whip properly.
Now let's start.  Whip egg whites until soft peaks form.  Add sugar gradually and continue whipping at high speed for six minutes or until it becomes stiff and glossy like below.  Add cream of tartar and whip for two more minutes to incorporate.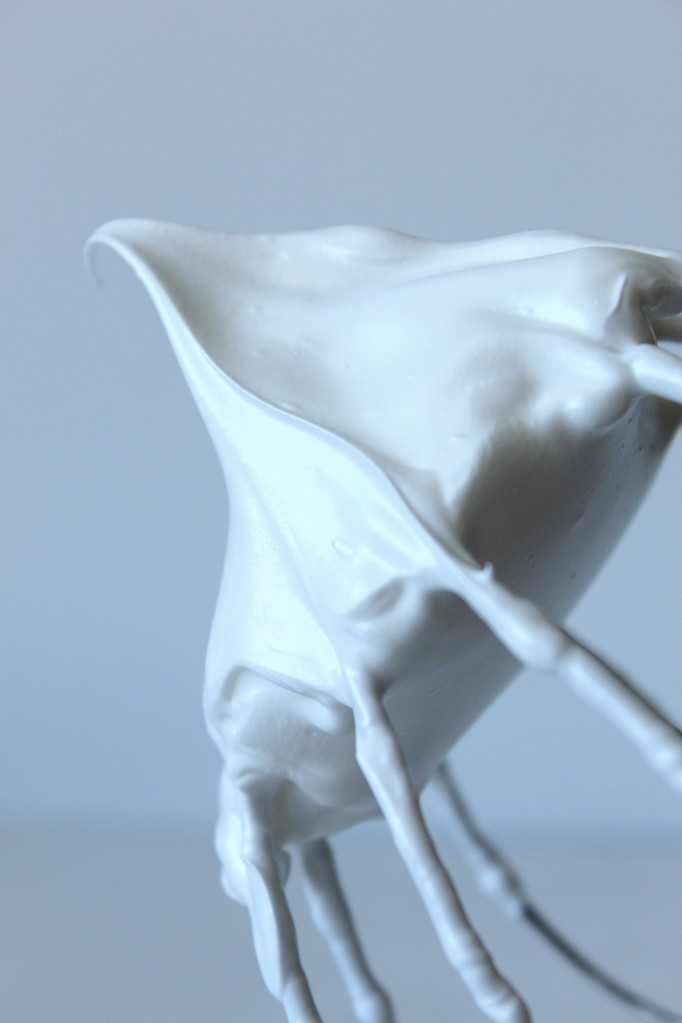 Using an ice cream scoop or two large spoons, drop meringue onto prepared baking sheet.  I used an ice cream scoop so they will all be the same size.  Swirl in one half teaspoon of salted caramel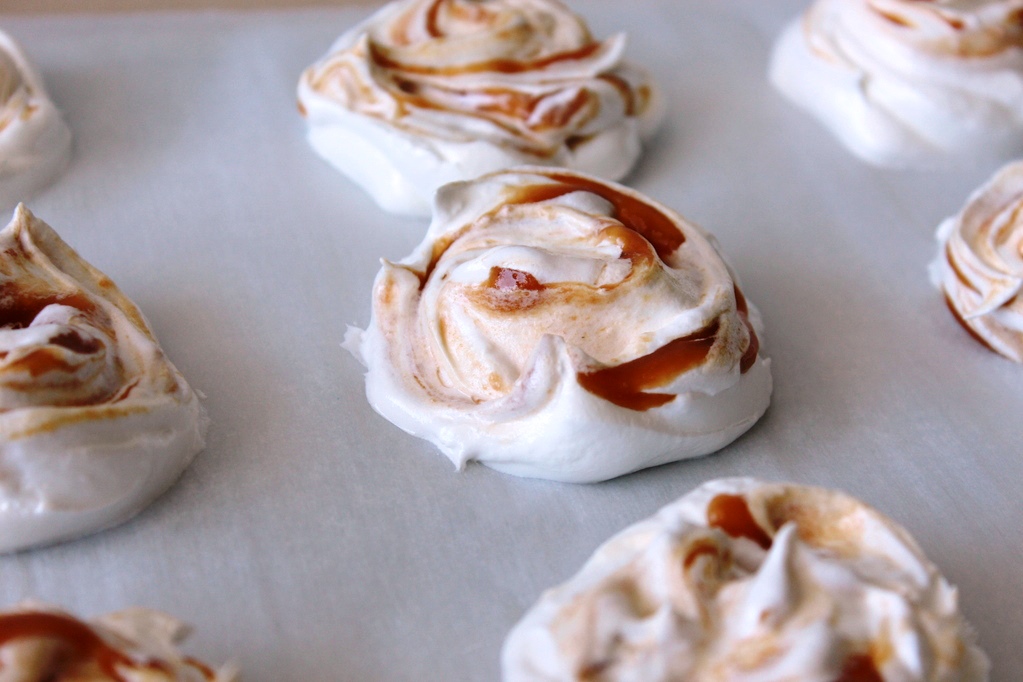 … and bake.  These cookies are pillowy light, sweet and crumbly.  Yum!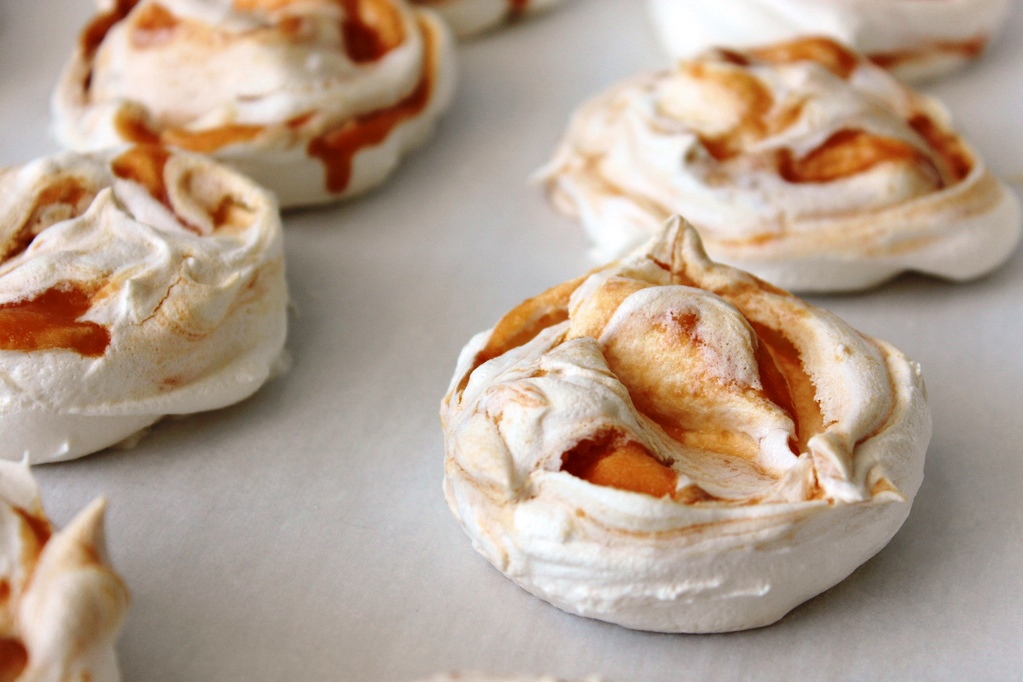 Adapted from Donna Hay Magazine, Dec/Jan 2015 edition.
Salted Caramel Swirl Meringue Cookies
Author:
Prep time:
Cook time:
Total time:
Ingredients
2 large egg whites, room temperature
1/2 cup superfine granulated sugar
1/4 teaspoon cream of tartar
1 1/2 tablespoons salted caramel sauce
Instructions
Preheat oven to 300 degrees Fahrenheit. Line a baking sheet with parchment paper.
Place egg whites in a large bowl.
Whisk at high speed until stiff peaks form.
Add sugar gradually, 1 tablespoon at a time.
Scrape the bowl down and whisk for another 6 minutes until stiff and glossy.
Add cream of tartar and whisk for 2 minutes further.
Divide the meringue onto prepared baking sheet.
Drop one half teaspoon salted caramel on top of each meringue.
Swirl with a knife.
Reduce oven temperature to 250 degrees Fahrenheit and bake for 30 minutes.
Turn the oven off and allow the meringues to bake for a further 30 minutes.
Notes
To make superfine sugar, process granulated sugar in a food processor for a few seconds.